Yuan Completes Weekly Loss After PBOC Weakens Reference Rate
by
Central bank says there's no basis for sustained depreciation

China opens up its bond market to more foreign investment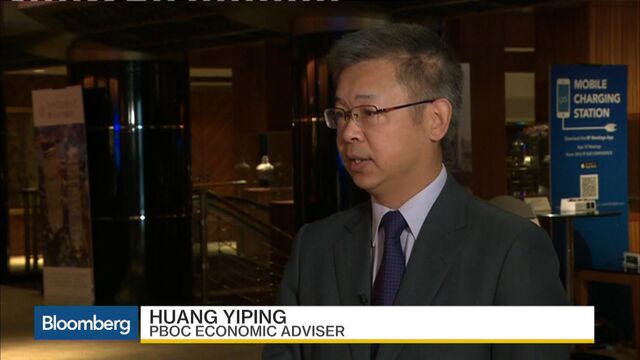 The yuan had its first weekly loss in more than a month as the central bank weakened the currency's reference rate for the first time since a run of reductions sparked a global stocks rout in early January.
The People's Bank of China kept a tight grip on its daily fixings from Jan. 8 through the Chinese New Year holiday after declines heightened concern about the state of Asia's biggest economy and led to an equities selloff that erased more than $4 trillion of market value worldwide. There's no basis for sustained depreciation of the yuan and stabilizing market expectations on the exchange rate is critical, the central bank said Friday as Group of 20 finance chiefs met for talks in Shanghai.
The currency fell 0.26 percent since Feb. 19 to 6.5371 a dollar in Shanghai, after a 0.85 percent advance last week that marked its biggest gain since March 2015, according to China Foreign Exchange Trade System prices. It declined 0.04 percent on Friday, while the offshore rate traded in Hong Kong lost 0.05 percent to 6.5387. The PBOC lowered its reference rate by 0.23 percent over the course of this week as the Bloomberg Dollar Spot Index advanced 0.22 percent.
"Besides the strength in the dollar this week, there haven't been any major domestic events to move the market," said Aaron Chan, director of retail sales at ADS Securities Hong Kong Ltd. "I expect the yuan to move sideways in the coming weeks until we see more signals about how the Fed is going to move during its next meeting."
The Federal Reserve's Open Market Committee meets March 15-16, with investors seeing only a 10 percent chance it will hike interest rates next month, rising to 24 percent in June.
The PBOC has been trying to restore stability to the yuan this year after capital outflows quickened following a surprise devaluation in August. The nation has been burning through foreign reserves to defend the currency, depleting its stock by $513 billion last year in the first annual decline in more than two decades. The figure includes a $100 billion drop in the valuation of the holdings due to price changes and exchange-rate fluctuations, according to a statement distributed to reporters before the PBOC briefing on Friday.
In addition, China has been tightening curbs on capital outflows while loosening controls on inflows. The central bank said this week it has opened the nation's interbank bond market to most types of foreign financial institution.
Before it's here, it's on the Bloomberg Terminal.
LEARN MORE