While Waiting for Valeant's 10-K, Five Questions for Management
by and
Company is restating 2014, 2015 results after investigation

CEO has been on extended medical leave since late December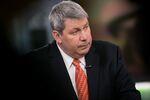 When Valeant Pharmaceuticals International Inc. holds a conference call to discuss unaudited fourth-quarter results on Monday, investors will get the first substantial update on the drugmaker since Chief Executive Officer Michael Pearson went on indefinite medical leave in late December.
Valeant has since faced numerous challenges: a congressional hearing into soaring drug prices; decisions by drug benefit managers Express Scripts Holdings Co. and CVS Health Corp. to curtail coverage of expensive medicines like toenail fungus drug Jublia; intensified scrutiny over its distribution system; and sharp stock declines as the uncertainties grew.
Valeant said this week it will delay the filing of its 10-K until a board committee completes a review of its now-severed relationship with controversial mail-order pharmacy Philidor Rx Services LLC. It will restate results from the past two years to reflect $58 million of Philidor-related revenue recognized in 2014 that should have been booked in subsequent periods.
The restatement, which analysts called minor, left many other questions unanswered. Here are five of them:
Pearson's Health
Citing a family request to respect Pearson's privacy while he recovers, Valeant has provided few details about the CEO's medical condition since he was hospitalized Dec. 25 for severe pneumonia. The latest update was a short confirmation Thursday that Pearson remains on leave while improving. It followed a two-paragraph memo to staff disclosed Jan. 25, in which Pearson said he was recovering after unexpected complications and that the timing of his return was uncertain.
The CEO built Valeant into a Wall Street darling through serial acquisitions and a lean research and development model before the drugmaker became a poster company for aggressive price hikes. He went on sick leave just as he was attempting to regain investors' trust.

Business Model

Under Pearson, the company has been highly acquisitive -- with 11 deals last year alone, according to data compiled by Bloomberg -- amassing a debt pile of $30.9 billion as of Sept. 30. The maker of gastrointestinal treatment Xifaxan has also used sharp drug price hikes to boost revenue. Now debt markets have tightened up and interim CEO Howard Schiller pledged to Congress that Valeant won't use aggressive pricing anymore.
"Valeant's self-proclaimed 'new business model' for pharma has been reliant upon low-cost debt for deals, cost-cutting for acquired companies, price increases, and based on recent reports, specialty-pharmacy practices that are now under scrutiny," Wells Fargo analyst David Maris wrote in a Feb. 18 report, initiating coverage with the equivalent of a sell rating. "Following recent intense scrutiny of its practices, Valeant's growth may be impeded."
Analysts on average estimate sales grew 27 percent in 2015 -- including 21 percent in the last quarter -- and will rise 19 percent in 2016, based on predictions compiled by Bloomberg.
Ballooning Debt
The drugmaker has told investors it would use the majority of its cash flow to reduce its debt, with Chief Financial Officer Robert Rosiello reiterating in December that Valeant plans to pay back at least $2.25 billion this year. Moody's Investors Service cut the outlook on its junk ratings on Valeant's debt to negative from stable on Tuesday, citing the delayed 10-K filing as well as other challenges. Investors have been pricing risk into the company's credit default swaps, which estimate the cost to insure its debt. The cost of protecting Valeant debt from default over five years increased to 571.7 basis points, or $571,675 for $10 million of borrowings. That's up from about $300,000 in September.

Walgreen Deal
Ten days before Pearson was hospitalized, Valeant announced a 20-year distribution deal with Walgreens Boots Alliance Inc. for its lucrative skin and eye drugs. The agreement "more than replaces" Philidor's business, Pearson said at the time.
The dermatology business probably declined 30 percent in the fourth quarter because of the loss of Philidor, according to Alex Arfaei, an analyst at BMO Capital Markets. The Walgreens deal will help resume growth this year, but it's uncertain by how much, Arfaei, who rates the shares market perform, wrote in a Feb. 21 note.
Philidor & Accounting
Valeant cut ties with Philidor in October after questions were raised about some of the mail-order pharmacy's practices to obtain payment from insurers. Valeant's relationship with Philidor was closer than what most drug companies have with pharmacies. It had paid $100 million for an option to buy Philidor for nothing any time in the next 10 years, and consolidated Philidor's financials into its own.
Interim CEO Schiller was chief financial officer during the period for which earnings were restated. All four members of the ad hoc board committee looking into Philidor were also independent directors during all or part of 2014.
"Although the revenue misstatement is relatively minor, we caution that the ad hoc committee has not completed its investigation," Prakash Gowd, an analyst at CIBC who rates the shares neutral, wrote in a Feb. 23 note. "There is a real risk that further issues may be disclosed."
Maris, the Wells Fargo analyst, raised other questions about accounting in his note. Among them: the extent to which growth in deferred tax liabilities and other tax-related accounts has affected earnings; whether Valeant's large amount of goodwill is currently impaired or will be in the near future; and why accounts receivable have grown twice as fast as sales since 2009.
Before it's here, it's on the Bloomberg Terminal.
LEARN MORE