U.K. Consumers Succumb to `Brexit' Jitters as Confidence Slumps
by
Households' economic outlook is at its lowest since 2013

EU referendum adds to potential risks for U.K. economy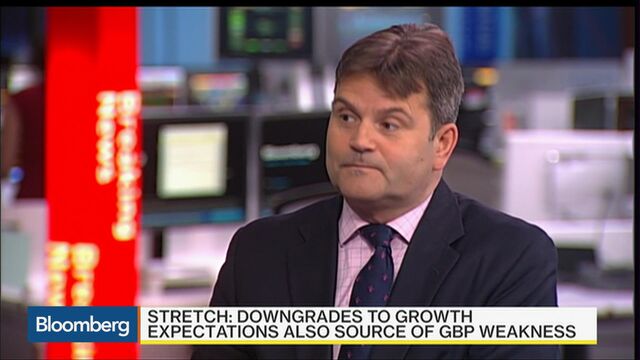 Consumer sentiment, the housing market, the pound. It's all taking a hit from "Brexit."
QuickTake Will Britain Leave the EU?
Property analyst Hometrack said on Friday the upcoming referendum on whether Britain should leave the European Union will curb housing activity and GfK's measure of consumers' economic optimism plunged to the lowest in almost three years. The pound has fallen more than 3 percent against the dollar this week and is headed for its worst week since 2009.
The referendum adds to potential risks for the U.K. economy this year, with polls showing the outcome is hard to call. While growth has been sustained for 12 straight quarters and low inflation is boosting real incomes, the run-up to the June 23 vote could undermine confidence and business spending.
Joe Staton at GfK said that despite the positives for households, "the feeble outlook for growth and a variety of economic uncertainties since the start of the year has depressed our New Year optimism." According to GfK's report, sentiment fell to the lowest since 2014 and consumers' assessment of the economic outlook plunged to the weakest reading since June 2013.
Hometrack said the EU vote, along with forthcoming tax changes affecting buyers of rental property, could damp sales volumes.
Weaker Outlook
"After a three-year upturn in housing-market activity and house prices, the outlook for the market appears increasingly tied up with policy impacts and the potential outcome of the referendum," said Richard Donnell, a director at Hometrack.
The uncertainty surrounding the vote comes as the U.K. struggles to cope with weak overseas demand.
Confidence among U.K. exporters fell in the fourth quarter amid slowing growth in China and the U.S. and continued weakness in the euro area, according to a survey by the British Chambers of Commerce and DHL published Friday. Overseas sales and orders in the last three months of 2015 dropped "significantly," they said.

Before it's here, it's on the Bloomberg Terminal.
LEARN MORE