business
This Money Manager's Mea Culpa Is Costing Him Almost $1 Million
By
Francis Chou returns fees to money-losing Opportunity Fund

Calls it `gesture of goodwill' after fund slid 22% in 2015
Francis Chou is feeling the pain of his U.S. investors after his Opportunity Fund suffered its worst annual performance ever in 2015.
Chou, one of Canada's longest-tenured value investors, decided to return $918,468 to the fund, a sum equal to most of last year's advisory fee, according to a regulatory filing. The mutual fund slid 22 percent last year, Bloomberg data show.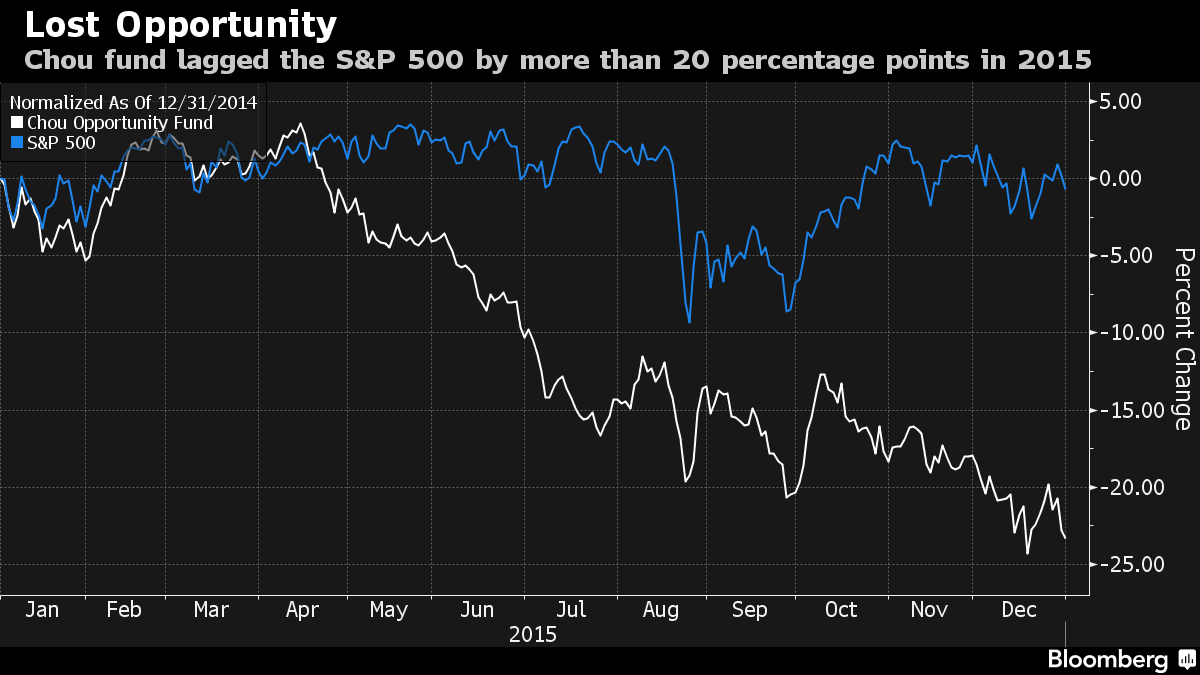 "This voluntary contribution was a gesture of goodwill" after 2015 returns lagged prior years, Chou, who was named fund manager of the decade in Canada by Morningstar Inc. in 2004, said in the Securities and Exchange Commission filing on Feb. 18. And he didn't stop there. As of Jan. 1, Chou said he'd waive the fund's entire advisory fee indefinitely.
Rebating fees is "pretty rare" because most money managers simply say they'll try to do better after a bad year, Russ Kinnel, director of mutual fund research at Chicago-based Morningstar, said in a telephone interview.
Chou, 60, took a similar step after his flagship Canadian fund, Chou Associates, fell 29 percent during the 2008 financial crisis.
Born to Chinese parents in India, Chou hasn't followed the traditional career path of a mutual fund manager. He initially worked as a Bell Canada telephone technician after emigrating in 1976. He started an investment club with Bell employees in 1981 and founded his own money management firm five years later. The company, which has one other employee besides Chou, now runs about C$900 million ($665 million).
The U.S.-based Opportunity fund had an average loss of 2.3 percent during the past five years, trailing 90 percent of peers, according to data compiled by Bloomberg. The S&P 500 increased an average of 10 percent, including dividends, in the period.
Chou generally invests in stocks that are trading below their intrinsic value and that offer potential for long-term growth, according to the fund's prospectus. It concentrates on about 10 to 35 securities and may invest in debt, including high yield bonds. The fund charges a 1 percent management plus expenses.
As of Dec. 31, it held 38 percent of net assets in cash. Sears Holdings Corp. accounted for 15 percent of assets and Canadian pulp and paper producer Resolute Forest Products Inc. was 12 percent. Sears and Resolute dropped 32 percent and 57 percent, respectively, last year.
Chou says his long-term record is much stronger, noting that $1 million invested with him in 1981 would be worth roughly $58 million today. Morningstar says the Chou Associates fund has generated an average annual return of 10.6 percent since starting up in October 1986, ranking it as the top performer among Canadian funds that have continued to operate over the ensuing three decades.
"His philosophy is value investing at its purest," said Morningstar analyst Achilleas Taxildaris. "He always tries to buy a dollar for 60 cents."
Before it's here, it's on the Bloomberg Terminal.
LEARN MORE