The Most Important Passages From Apple's Challenge to the FBI
"GovtOS" may make us all part of a police state, and other stark warnings from Apple.
by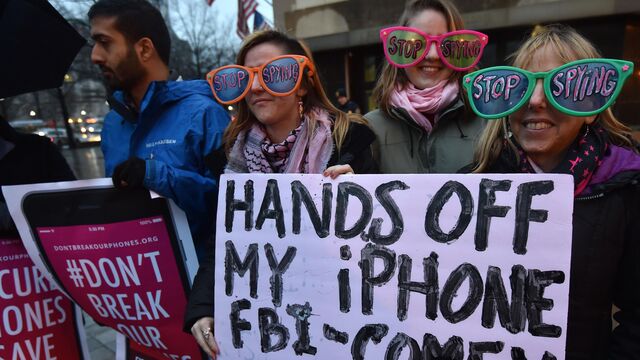 GovtOS. That's what Apple Inc. calls the newest product in its pipeline. It's not the brainchild of the gadget masters in Cupertino but rather an iPhone operating system conceived by some buttoned-down folks in Washington, D.C. Unlike the latest iPhone or iPad, it wasn't revealed on a stage before thousands of the faithful. Instead, it was unveiled in a stark response to the Obama administration's attempt to force the computer maker to assist in a terrorism probe. And, Apple has warned, it may someday lead to every American being made an unwilling assistant to law enforcement.
In a 65-page federal court filing on Thursday in Riverside, Calif., Apple said making it override the encryption of an iPhone belonging to one of the San Bernardino shooters was wild overreach. As a legal matter, Apple's lawyers swiftly disassembled the government's use of an 18th century law (the All Writs Act) to justify its demand and described in minute detail how forced compliance would play out, both for Apple's technicians and whoever else is next.

Although Apple has a growing number of lawyers in this fight, it may have telegraphed its intent to make a First Amendment argument a pillar of the case. Forcing someone to write code is like forcing them to speak, Apple suggested, and that's usually a constitutional no-no. The brief's main author, Ted Boutrous of Gibson Dunn & Crutcher LLP, is one of the nation's premier media lawyers. Here are some highlights:
A Broader Threat
"Under the same legal theories advocated by the government here, the government could argue that it should be permitted to force citizens to do all manner of things 'necessary' to assist it in enforcing the laws, like compelling a pharmaceutical company against its will to produce drugs needed to carry out a lethal injection in furtherance of a lawfully issued death warrant, or requiring a journalist to plant a false story in order to help lure out a fugitive, or forcing a software company to insert malicious code in its autoupdate process that makes it easier for the government to conduct court-ordered surveillance. " 
A Threat to Privacy on a Global Scale
"This is not a case about one isolated iPhone. Rather, this case is about the Department of Justice and the FBI seeking through the courts a dangerous power that Congress and the American people have withheld: the ability to force companies like Apple to undermine the basic security and privacy interests of hundreds of millions of individuals around the globe."
A Trifecta of Illegality
"No court has ever authorized what the government now seeks, no law supports such unlimited and sweeping use of the judicial process, and the Constitution forbids it."
Christmas for Criminals and Spies
"The government wants to compel Apple to create a crippled and insecure product. Once the process is created, it provides an avenue for criminals and foreign agents to access millions of iPhones. And once developed for our government, it is only a matter of time before foreign governments demand the same tool."
The Internet of Big Brother's Things
"If Apple can be forced to write code in this case to bypass security features and create new accessibility, what is to stop the government from demanding that Apple write code to turn on the microphone in aid of government surveillance, activate the video camera, surreptitiously record conversations, or turn on location services to track the phone's user? Nothing."

"Compelling Apple to create software in this case will set a dangerous precedent for conscripting Apple and other technology companies to develop technology to do the government's bidding in untold future criminal investigations."
Forgot to Call Tech Support
"Unfortunately, the FBI, without consulting Apple or reviewing its public guidance regarding iOS, changed the iCloud password associated with one of the attacker's accounts, foreclosing the possibility of the phone initiating an automatic iCloud back-up of its data to a known Wi-Fi network, which could have obviated the need to unlock the phone and thus for the extraordinary order the government now seeks. Had the FBI consulted Apple first, this litigation may not have been necessary."
Congress Already Said No
"Congress has never authorized judges to compel innocent third parties to provide decryption services to the FBI. Indeed, Congress has expressly withheld that authority in other contexts, and this issue is currently the subject of a raging national policy debate among members of Congress, the President, the FBI Director, and state and local prosecutors. Moreover, federal courts themselves have never recognized an inherent authority to order non-parties to become de facto government agents in ongoing criminal investigations."
We Just Made It, We Don't Own It
"Apple is no more connected to this phone than General Motors is to a company car used by a fraudster on his daily commute." 

"Nothing connects Apple to this case such that it can be drafted into government service to write software that permits the government to defeat the security features on Apple's standard operating system. Apple is a private company that does not own or possess the phone at issue, has no connection to the data that may or may not exist on the phone, and is not related in any way to the events giving rise to the investigation."
Thin End of the Wedge
"The government's flawed suggestion to delete the program and erase every trace of the activity would not lessen the burden, it would actually increase it since there are hundreds of demands to create and utilize the software waiting in the wings. If Apple creates new software to open a back door, other federal and state prosecutors—and other governments and agencies—will repeatedly seek orders compelling Apple to use the software to open the back door for tens of thousands of iPhones."

"This enormously intrusive burden—building everything up and tearing it down for each demand by law enforcement—lacks any support in the cases relied on by the government, nor do such cases exist."

"The alternative—keeping and maintaining the compromised operating system and everything related to it—imposes a different but no less significant burden, i.e., forcing Apple to take on the task of unfailingly securing against disclosure or misappropriation the development and testing environments, equipment, codebase, documentation, and any other materials relating to the compromised operating system."
It Cannot Be Destroyed
In an affidavit attached to the court filing (formally called "Apple Inc.'s Motion to Vacate Order Compelling Apple Inc. to Assist Agents in Search, and Opposition to Government's Motion to Compel Assistance"), Apple's manager of user privacy, Erik Neuenschwander, summed up the government's "use and destroy" idea this way: "The virtual world is not like the physical world. When you destroy something in the physical world, the effort to recreate it is roughly equivalent to the effort required to create it in the first place. When you create something in the virtual world, the process of creating an exact and perfect copy is as easy as a computer key stroke because the underlying code is persistent. Even if the underlying computer code is completely eradicated from Apple's servers so as to be irretrievable, the person who created the destroyed code would have spent the time and effort to solve the software design, coding and implementation challenges. This process could be replicated. Thus, GovtOS would not be truly destroyed."

Before it's here, it's on the Bloomberg Terminal.
LEARN MORE