Schwarzman Gets $734 Million in Record Year for Blackstone
by
Co-founder, biggest shareholder has 12% jump in total payout

Dividend policy diverges from KKR, founded by Kravis, Roberts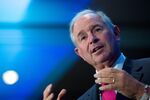 Steve Schwarzman is pulling ahead as the wealthiest man in private equity after a record year for Blackstone Group LP.
The Blackstone co-founder received $645 million in dividends on his stock ownership in 2015, according to calculations based on the firm's annual report filed Friday with U.S. regulators. Including his cut of deal profits, salary and other compensation, Schwarzman, who owns about 20 percent of the company, took home $734 million, up from $656 million the previous year.
Private equity executives are among the wealthiest financiers, with Schwarzman, who grew up in Philadelphia as the son of a dry-goods store owner, ranking 44th in the U.S. on the Bloomberg Billionaires Index with an estimated net worth of $9.5 billion. The founders of the largest leveraged-buyout firms get the majority of their income from dividends on their ownership in the companies, several of which have gone public, including Blackstone, Carlyle Group LP, KKR & Co. and Apollo Global Management LLC. Salaries top out at a few hundred thousand dollars a year.
Carlyle co-founder David Rubenstein took in $102 million in dividends last year, and co-founders Bill Conway and Dan D'Aniello got $97 million apiece, according to the Washington-based firm's report filed Wednesday with the Securities and Exchange Commission. Carlyle paid $2.17 a share to holders of its partnership units, up from $2.09 in 2014. Holders of common stock got $2.07 a share.
Record Profit
Blackstone reported record distributable profit of $3.84 billion in 2015, a 25 percent jump from the previous year. The firm paid $2.78 a share to holders of its partnership units, up from $2.46 in 2014. Holders of common stock got $2.73 a share.
The year "was a year in which Blackstone achieved several milestones," Schwarzman said in January when discussing 2015 results, citing record assets under management of $336 billion, record fundraising of $94 billion and a record amount invested of $32 billion. The firm also distributed $43 billion to fund investors such as pension funds, endowments and foundations. "We entered 2016 with great confidence in our business and its prospects."
Schwarzman, 69, is poised to widen his gap as the wealthiest of the firms' founders as New York-based Blackstone pays out more of its profits to shareholders than some peers. KKR, run by billionaire founders and cousins George Roberts and Henry Kravis, in October instituted a fixed quarterly dividend of 16 cents a share, instead of a payout policy that rises with profits, in an effort to grow its market value by investing more of its earnings in deals and new investment offerings.
Roberts, 72, took home $173 million for the year, including $120.5 million in dividends and $52.3 million in other compensation, mostly his share of deal profits, according to calculations based on the New York-based firm's report filed Friday. Kravis, 72, received $166 million, including $113.6 million in dividends and $52.3 million in mostly deal gains, known as carried interest.
Stock Slump
Common stockholders haven't shown appetite for the firms lately. Blackstone has fallen 15 percent, with dividends reinvested, since the start of last year, to yield 11 percent. Carlyle has declined 36 percent and is yielding 14 percent, KKR has slumped 42 percent and is yielding 11 percent, and Apollo has slipped 29 percent to yield 9 percent, according to data compiled by Bloomberg.
In October, Blackstone shareholders also got a share of financial advisory firm PJT Partners Inc. for every 40 shares of Blackstone. PJT, which merged with Blackstone's advisory, restructuring and fundraising services businesses, has a market value of $492 million and is paying a dividend of 5 cents a share for the fourth quarter.
Blackstone on Friday also disclosed executives' net contributions or net distributions in the firm's investment funds. Schwarzman in 2015 received $65.6 million more than he contributed.
Peter Grauer, chairman of Bloomberg LP, the parent of Bloomberg News, is a non-executive director at Blackstone.
Before it's here, it's on the Bloomberg Terminal.
LEARN MORE