Russia Seen Dodging Political Storm as Putin Rides Out Recession
by and
Analysts see 30% chance that economic woes will bring unrest

Russia one of five emerging nations to hold major vote in 2016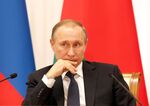 As Russia hunkers down for the second year of recession, most economists say a parliamentary election in September won't unleash the kind of protests that rattled the country in 2011.
There's a 30 percent chance that economic distress will translate into political unrest, according to the median of 27 estimates in a Bloomberg survey. Just six of the economists see at least a 50 percent probability of upheaval.
Russia, one of only five countries in the developing world to hold major elections this year, has so far seen just a scattering of protests, setting it apart from the biggest emerging nations like India and Brazil that have recently been convulsed by demonstrations and rioting. Although facing one of the toughest challenges of his 16-year-rule, with incomes falling the most since he came to power, President Vladimir Putin's public approval has held near a record-high amid airstrikes in Syria and the standoff over Ukraine.
"The political reaction to this misery is probably going to be much more apathy than revolution," said Wolf-Fabian Hungerland, an economist at Berenberg Bank in Hamburg, Germany. "The Kremlin has just too many scapegoats at hand."
The latest poll shows Putin's allies at the United Russia party leading their closest challenger by 29 percentage points -- if elections were held next Sunday. In 2011 and 2012, tens of thousands of people took to the streets against what they called vote rigging and Putin's return to the presidency.

Putin used the crisis in Ukraine to put behind him the biggest anti-government protests of his years in power. He's hardened his response to critics with a crackdown on opposition activists since winning a six-year presidential term in 2012. The president's support was at 82 percent in January, according to a poll by the Levada Center research company.
No Repeat
"We would exclude a repetition of the political mass street protests of 2011-2012," said Andreas Schwabe, an economist at Raiffeisen Bank International AG in Vienna. "However, social unrest by certain groups of the population will likely flare up from time to time, and might become even more frequent -- if there are particular pressing issues."
With the country caught up in its longest recession in two decades, millions of Russians are sinking into poverty after the government allowed household finances to bear the brunt of the country's economic contraction and responded to the crisis with spending cutbacks and a free float of the ruble.
Deeper Contraction
Gross domestic product will shrink 1.5 percent in 2016 before growing 1.2 percent next year, according to economists surveyed Feb. 19-24. Last month, analysts forecast a smaller decline of 0.7 percent in 2016.
The ruble is down more than 2 percent against the dollar this year after a 20 percent loss in 2015.
The probability of political upheaval "is more limited than last time given the worsened relations between Russia and several neighboring countries," said Cristian Maggio, the London-based head of emerging-market research at Toronto Dominion Bank. "This all suggests that Russian people will feel more united and supportive of their government."
Before it's here, it's on the Bloomberg Terminal.
LEARN MORE