politics
Rubio's Breakout Debate, By the Numbers
By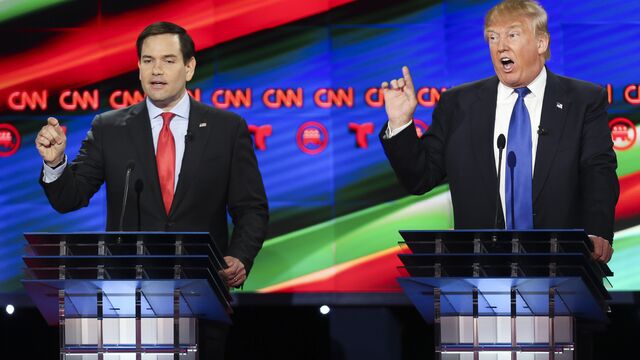 Florida Senator Marco Rubio aimed straight for the bullseye in Thursday night's Republican presidential debate: Billionaire front-runner Donald Trump.
Just days from Super Tuesday, the showdown in Houston marked Rubio's -- and Texas Senator Ted Cruz's -- last best chance to curb Trump's momentum before the biggest one-day delegate haul of the race. Try they did: Cruz mentioned Trump four times more than even "America," combining with Rubio to name-check the front-runner 79 times.

The tag-team assault left retired neurosurgeon Ben Carson gasping for airtime. "People say that I whine a lot because I don't get time," Carson admitted. "I'm going to whine because I didn't get asked about taxes, I didn't get asked about Israel."

Neither Kasich nor Carson swung at any other candidate; the whopping 35 attacks on Trump were split between Rubio (17) and Cruz (18). 
Rubio's Attacks
Rubio sought to cast himself as the adult in the room. "The time for games is over," he said in his closing statement. 
Trump weathered attacks not only on his business dealings and hiring practices, but also on his governing proposals. On health care, Rubio asked Trump eight versions of "What's your plan?" in 64 seconds. Throughout the debate, Rubio called five separate issues "important" before launching into detailed descriptions of his own policy views.

Cruz's Attacks
If Rubio's battleground with Trump was policy, Cruz's was politics. He said Trump lost to Democratic front-runner Hillary Clinton in eight of the last 10 polls aggregated by RealClearPolitics, while Cruz tied or beat Clinton in those polls.
Trump countered with a Bloomberg Politics poll showing his strength in seven Super Tuesday states, but Cruz insisted on discussing the general election, not the primary. The focus on November marked a significant change for Cruz, who previously tended to aim at President Barack Obama when attacking Democrats in debates. Cruz has mentioned the president 108 times across the 10 debates, more than twice the rate of any other candidate. Thursday's debate was the first one in which he mentioned Clinton more often than Obama.

-- With assistance from Andre Tartar. Bloomberg contributor Adam Tiouririne of Logos Consulting Group advises senior business leaders on high-stakes communication and researches language, leadership, and the media. 
Before it's here, it's on the Bloomberg Terminal.
LEARN MORE