Powell Defends the Fed's `Dot Plot' Forecasts of Rate Path
by
Says he doubts market participants would favor ditching dots

Dots, on balance, are `helpful' to the market and the FOMC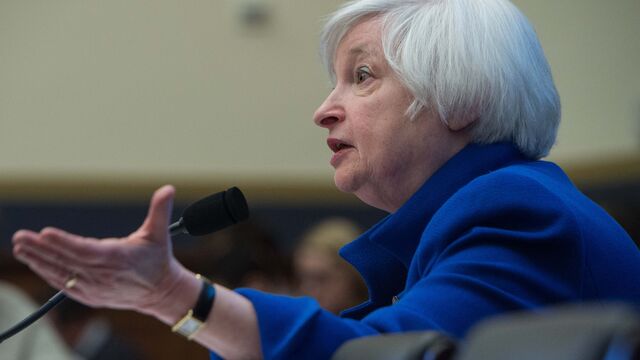 Federal Reserve Governor Jerome Powell defended the central bank's heavily scrutinized interest-rate forecasts, known as the "dot plot," against criticism that the quarterly projections sometimes do more to confuse investors and the public than clarify policy makers' views.
"On occasion, the dot plot and the post-meeting statement have seemed to send conflicting signals," Powell said Friday in New York, referring to the individual forecasts that Fed officials provide on the appropriate future path of interest rates. "My view is that the dot plot, on balance, is helpful to market participants and hence to the committee."
The Federal Open Market Committee meets eight times a year to set the benchmark federal funds rate and discuss economic and financial market developments. The group also submits forecasts at every other meeting. Policy makers will update their forecasts at the next FOMC meeting taking place March 15-16 in Washington.
Officials projected four quarter-point rate increases would be warranted in 2016 in the forecasts they submitted for their meeting in December, at which they raised the target for the benchmark federal funds rate for the first time in nearly a decade.
Powell's speech, at a conference sponsored by The Initiative on Global Markets at the University of Chicago's Booth School of Business, centered on a paper delivered at the same conference that examined Fed communication practices.
Outlived its Usefulness
Powell noted that chief U.S. economist at JPMorgan Chase & Co. Michael Feroli, a co-author of that paper, has said the dot plots "have outlived their usefulness."
"I doubt that most market participants would welcome the elimination of this chart," Powell countered. He said requiring policy makers to provide forecasts, not only on interest rates but also for economic growth, inflation and unemployment, forces them to be "systematic" in their approach to rate decisions. Changes in those forecasts over time also give the public a better understanding of how Fed officials react to changes in the economy, he said.
"As the dot plot enters its fifth year of existence, my hope is that we will be able to capture those benefits while avoiding its shortcomings," Powell said.
Proven Value
San Francisco Fed chief John Williams joined Powell on a panel to discuss the paper. He said that the central bank's explicit forward guidance had "definitely proven its value" in assuring investors that interest rates would remain near zero for a prolonged period after the financial crisis.
"Like a sledgehammer, strongly worded forward guidance can be a powerful tool when it's needed. But, like a sledgehammer, care needs to be taken when and where it is used," he said.
The Feroli paper argued that policy makers need to do a better job of explaining how much uncertainty lies around their quarterly forecasts and time-based forward guidance about future policy action had at times tied the Fed's hands.
Fed Chair Janet Yellen and other participants "should provide far more information on the uncertainty about where future policy rates might be," the authors wrote.
Before it's here, it's on the Bloomberg Terminal.
LEARN MORE