China Flags Scope for Policy Stimulus, Tweaks Monetary Stance
Bloomberg News
Comments signal more monetary easing this year, Citic says

Finance minister: China still has room to loosen fiscal policy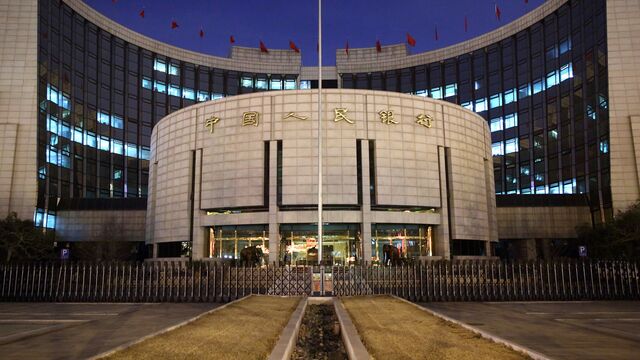 China's central bank tweaked the description of its monetary policy stance to reflect a recent ramp-up in liquidity injections and moves to guide money market rates lower, with Governor Zhou Xiaochuan highlighting the scope for further actions if needed.
"China still has some monetary policy space and multiple policy instruments to address possible downside risks," Zhou said at a conference in Shanghai, speaking hours before meeting his counterparts from the Group of 20 developed and emerging markets. His co-host, Finance Minister Lou Jiwei, said China will expand its fiscal deficit to support structural reforms to the economy.
With few other G-20 members offering much in the way of stimulus pledges -- and Germany outright rejecting any -- the remarks from Chinese officials helped boost Asian stocks, industrial metals and higher-yielding currencies. Premier Li Keqiang, in a video message to the group, said China can "handle the complex situation at home and abroad."
'Easing Bias'
The People's Bank of China also on Friday published a statement defining current policy as "prudent with a slight easing bias." The PBOC had previously used language pledging to maintain a prudent policy while maintaining "reasonable, ample" liquidity.
The latest comments confirm "the underlying reality that the central bank is doing its bit to cushion growth and keep the wheels churning," said Frederic Neumann, co-head of Asian economic research at HSBC Holdings Plc. "Today's statement is thus a deliberate signal to FX traders the world over not to fret too much over the PBOC's firepower."
Economists surveyed by Bloomberg News this month forecast additional reserve requirement ratio and benchmark interest-rate reductions in 2016.
The shift "brings the language on the central bank's policy stance into line with the reality," Bloomberg Intelligence chief Asia economist Tom Orlik wrote in a note. Still, "the need to avoid selling pressure on the yuan will make it more difficult to cut benchmark rates in the short term."
Premier Li underscored in his remarks to the G-20 that there's no basis for long-term depreciation in the yuan. He also warned the group that quantitative easing may lead to negative consequences and be ineffective in boosting growth. Earlier in the day, International Monetary Fund Managing Director Christine Lagarde said the impact of monetary policies was diminishing.
Fiscal Support
China's signals of monetary accommodation complemented indications that more fiscal support will be in store to help an economy that -- officially at least -- slowed to a 6.9 percent growth pace last year, the weakest since 1990.
"China still has the room to loosen fiscal policy," Lou said Friday in comments at the start of the G-20 meeting. Policies should include cutting red tape, targeted tax breaks, and increasing the mobility of migrant workers, Lou said.
Zhou said the economy remains strong and its structure and quality are improving. China-- which has kept benchmark interest rates at record lows since October -- has been injecting liquidity and guiding market rates lower as it shifts to a market-based monetary framework. Last week, it cut the medium-term borrowing cost it charges lenders for the second time this year.
Stabilizing Expectations
The PBOC has also been trying to restore stability to the nation's currency as capital flows out at a record pace. It reiterated Friday there's no basis for persistent yuan depreciation. Recent moves to reference the yuan against a basket of currencies have "now taken shape," the PBOC said.
"The current regime is able to better reflect market supply and demand, remain broadly stable vis-a-vis a basket, and anchor market expectations," the central bank said. "China's foreign reserves will also be kept around an appropriate and reasonable level."
A decline in the nation's foreign-exchange reserves during the adjustment process is normal and consistent with ongoing economic restructuring and a more balanced growth model, the PBOC said.
"The economy is slowing, but the economy is not as bad as it looks," Huang Yiping, professor at Peking University and economic adviser to the PBOC, said in an interview with Bloomberg Television. "The old industry, the labor-intensive manufacturing industry and heavy industry which has been driving Chinese growth is losing out, but the new economy is rising."
In the Spotlight
As China hosts the world's top economic leaders in the same year the yuan gains reserve currency status from the IMF, it's finding its own policies are in the spotlight. Economic leaders such as Lagarde and U.S. Treasury Secretary Jacob J. Lew have called for better communication from the world's second-biggest economy.
While Zhou had remained silent in the months after a surprise currency devaluation in August, he's come roaring back into the public eye this month. In addition to his speech and press conference Friday, he gave an in-depth interview to the Chinese business magazine Caixin and appeared at a panel discussion in Beijing.
"We've all been telling the Chinese that more communication, clearer communication would be helpful for the market," Goldman Sachs Group Inc. president Gary Cohn said Friday in a Bloomberg Television interview in Shanghai. "Hopefully, the Chinese are trying to more clearly communicate what their initiatives are going to be."
— With assistance by Xiaoqing Pi, Heng Xie, and Kevin Hamlin
Before it's here, it's on the Bloomberg Terminal.
LEARN MORE