Dollar Dominant in Yuan's Basket-Peg System: China Central Bank Chief
Bloomberg News
Managing yuan expectations may cut intervention costs: Natixis

Zhou: Emerging-market currencies will gain more importance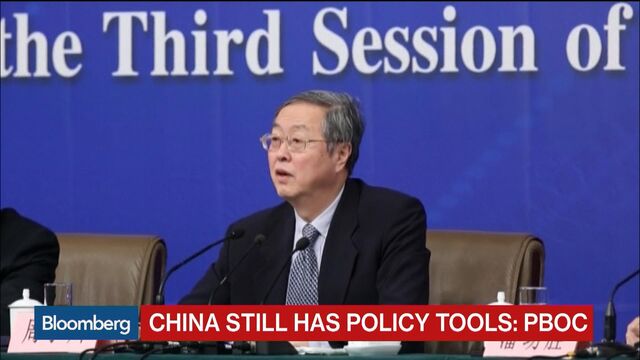 The greenback plays the biggest role in a group of currencies against which China's central bank pegs the yuan, Governor Zhou Xiaochuan confirmed on Friday.
"The U.S. dollar is still the most important currency in the basket," Zhou said at a press conference on the sidelines of the Group of 20 finance chiefs meeting in Shanghai.

He was responding, in a rare availability, to a question on how market participants can better understand currency policy when China asserts that the yuan is pegged against a basket of currencies while at the same time setting a daily reference rate against the dollar.
"The message is a good way to manage expectations" on the exchange rate and foreign-exchange reserves, Alicia Garcia Herrero, chief Asia economist at Natixis SA in Hong Kong, wrote in a note. If the People's Bank of China can manage market expectations the currency will be stable, then it "could save foreign-reserve bullets" on onshore and offshore yuan market intervention, which would eventually result in a slower pace of capital outflows, she said.
Zhou told reporters more reference is made now to a given basket of currencies, and that the weight of that reference will continue to increase. While emerging-market currencies will have more importance in the future, the greenback is dominant for now, he said.
Foreign Reserves
China's defense of the yuan depleted its foreign reserves, the world's largest, by $513 billion last year in the first annual drop since 1992. The figure includes a $100 billion decrease in the valuation of the holdings due to price changes and exchange-rate fluctuations, according to a PBOC statement distributed to reporters before the briefing.
The yuan was relatively stable in both onshore and offshore markets Friday. It weakened to a five-year low in January.
— With assistance by Heng Xie, and Jeff Black
Before it's here, it's on the Bloomberg Terminal.
LEARN MORE