Money and Sex: Warren Buffett, the Winking Sage of Omaha
What are all those blondes and virgins doing in Berkshire Hathaway's shareholder letters?
by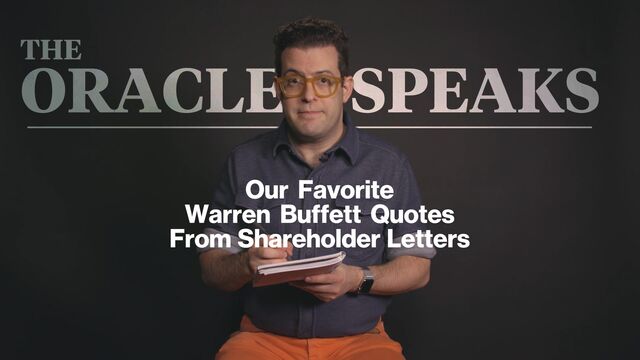 Warren Buffett is a master at explaining complex transactions to ordinary individuals, as in his celebrated annual letters. Along with Buffett's sharp wit, they display a quaint pattern of old jokes and creaky tropes. On the eve of his latest letter, due Saturday morning, here's a sampler. 
On how "some truths can only be learned through experience":
In Fred Schwed's wonderful book, "Where Are the Customers' Yachts?" a Peter Arno cartoon depicts a puzzled Adam looking at an eager Eve, while a caption says, "There are certain things that cannot be adequately explained to a virgin either by words or pictures." (2014)
On Berkshire's pursuit of both operating businesses and passive investments:
Woody Allen stated the general idea when he said: "The advantage of being bisexual is that it doubles your chances for a date on Saturday night." (2013)
On buying more of winning investments: 
Mae West had it right: "Too much of a good thing can be wonderful."' (2012)
On finding good opportunities to deploy Berkshire's cash hoard: 
To update Aesop, a girl in a convertible is worth five in the phone book. (2010) 1 This is a more concise repeat of a comment made in the 2000 letter: Instead, we try to apply Aesop's 2,600-year-old equation to opportunities in which we have reasonable confidence as to how many birds are in the bush and when they will emerge (a formulation that my grandsons would probably update to "A girl in a convertible is worth five in the phonebook").

On counterparty risk in derivatives contracts:
Participants seeking to dodge troubles face the same problem as someone seeking to avoid venereal disease: It's not just whom you sleep with, but also whom they are sleeping with. (2008)
On bad deals 2 In this instance, he's talking about the acquisition of Dexter. :
A line from Bobby Bare's country song explains what too often happens with acquisitions: "I've never gone to bed with an ugly woman, but I've sure woke up with a few." (2007)
On the need to ignore smaller deals and focus on big acquisitions. Here, Buffett recounts the tale of a young man and an old man who lose track of their wives at the supermarket and resolve to seek them out together:
The older man asked his new companion what his wife looked like. "She's a gorgeous blonde," the fellow answered, "with a body that would cause a bishop to go through a stained glass window, and she's wearing tight white shorts. How about yours?" The senior citizen wasted no words: "Forget her, we'll look for yours." (2006)
On his eagerness for investment ideas:
If you have a business that fits, give me a call. Like a hopeful teenage girl, I'll be waiting by the phone. (2005)
On growth in market share (and referring to Berkshire Vice Chairman Charlie Munger): 
In apparel, Fruit of the Loom increased unit sales by 10 million dozen, or 14%, with shipments of intimate apparel for women and girls growing by 31%. Charlie, who is far more knowledgeable than I am on this subject, assures me that women are not wearing more underwear. With this expert input, I can only conclude that our market share in the women's category must be growing rapidly. (2004)

On a director's responsibility to oust likable but underperforming managers:
Directors must react as did the chorus-girl bride of an 85-year-old multimillionaire when he asked whether she would love him if he lost his money. "Of course," the young beauty replied, "I would miss you, but I would still love you." (2002)
On insurance company reserves:
I'd say that the effects from telling a profit-challenged insurance CEO to lower reserves through discounting would be comparable to those that would ensue if a father told his 16-year-old son to have a normal sex life. Neither party needs that kind of push. (2001)
On CEOs who manipulate earnings by taking restructuring charges:
Their behavior brings to mind Voltaire's comment on sexual experimentation: "Once a philosopher, twice a pervert." (1998)
Before it's here, it's on the Bloomberg Terminal.
LEARN MORE