Biggest Irish Parties Signal Ready for First Grand Coalition
By and
Arch rivals Fine Gael and Fianna Fail may have majority

Onus is on to form stable government, Fianna Fail says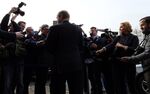 Ireland's two biggest parties opened the door for an unprecedented grand coalition, burying decades of rancor in a bid to avoid the political instability which has enveloped fellow bailed-out nations Spain and Portugal.
Prime Minister Enda Kenny's Fine Gael secured 25 percent in Friday's election, according to a poll for broadcaster RTE, released on Saturday. Traditional rival Fianna Fail secured 21 percent. Under Ireland's electoral system, about 44 percent is needed for an overall majority.
"We're committed doing our best by the country and ensuring there's a good government," Fianna Fail leader Micheal Martin said in an interview with RTE on Saturday, echoing sentiments earlier expressed by senior Fine Gael figures. "It's going to take time."

Like governments in Greece, Portugal and Spain, Kenny's alliance with the Labour Party suffered massive losses, feeling the force of popular wrath over spending cuts and tax increases. Kenny's only option to provide political stability in the fastest-growing economy in the euro region is a pact with Fianna Fail, with bookmaker Paddy Power placing an 80 percent probability on such a government. Kenny said he'd take 48 hours to examine the outcome, adding the nation needed stability.
"At this stage, it has to be Fine Gael and Fianna Fail or else a second election," Eoin Fahy, chief economist at Kleinwort Benson Investors in Dublin, said. "Another election is a possibility rather than a probability at this point."
Civil War
By 9:30 p.m.in Dublin, 41 of the 158 seats had been filled, RTE said. Fianna Fail had 15, and Fine Gael 12, with Sinn Fein taking five.
"Democracy can be very exciting, but it can be merciless when it kicks in," Kenny said in an interview with RTE, conceding voters had rejected his Fine Gael/Labour alliance.
Fine Gael and Fianna Fail will seek to form a government, the Irish Times reported on Saturday, citing unnamed sources in both parties. Detailed talks would start after the next scheduled meeting of parliament on March 10 fails to elect a new government, the Dublin-paper newspaper said. Before the election, both sides ruled out a pact, and Health Minister Leo Varadkar said the initiative may lie with the opposition to form a government.
The parties trace their roots back to the nation's bitter Civil War, a battle over the treaty which partitioned Ireland in the 1920s. Fianna Fail emerged from groups which opposed the 1921 peace treaty with the U.K. and Fine Gael has its roots in organizations which supported the agreement.
Yet, few ideological differences exist between the two sides and a coalition between them could avoid the instability roiling Portugal and Spain. Though Fine Gael pushed for higher tax cuts during the campaign, both parties respect European rules limiting the deficit and vow to protect the nation's 12.5 percent corporate tax rate.
"There is hardly the width of a cigarette paper between them on most policy issues, " said Philip O'Sullivan, an economist at Investec Plc in Dublin.