Infantino Elected FIFA President, Replacing Banned Blatter
by and
Banned Blatter leaves role after almost 20 years in charge

Infantino arrives as soccer body tries to overcome corruption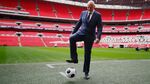 Gianni Infantino was elected president of FIFA, putting him at the top of soccer's global governing body as it tries to emerge from a sweeping corruption scandal.

European soccer's top administrator got 115 votes in the second round of balloting at Zurich's Hallenstadion, beating Bahrain's Sheikh Salman al Khalifa. The first new president since Joseph 'Sepp' Blatter took office in 1988, Infantino will help set priorities for one of sport's most powerful bodies and oversee the World Cup. He takes office immediately and will serve until 2019.
"We will restore the image of FIFA and the respect of FIFA, and everyone in the world will applaud us," Infantino said in his remarks, peppered with English, French and Italian.
Infantino, 45, was not originally considered among the top candidates. He entered the race as a placeholder while his boss at UEFA, Michel Platini, appealed his ban from FIFA. (After Swiss prosecutors opened a probe into a unauthorized payment from Blatter to Platini, FIFA ousted the pair.) After it became clear that Platini would not be allowed in the race, Infantino's campaign gathered steam.
Now he must convince a skeptical public that FIFA can change. The organization is still under investigation by U.S. and Swiss authorities for alleged bribery and corruption in the awarding of the 2018 and 2022 World Cups to Russia and Qatar. Nearly 40 people, including a dozen FIFA officials, have been arrested in connection with corruption in soccer.
Moments of Crisis
"FIFA has gone through sad times, moments of crisis, but those times are over and we need to move forward," he said to the delegates. "We need to implement reforms and implement good governance and transparency."
In an earlier session, FIFA delegates approved changes aimed at preventing corruption by a vote of 179 to 22. They include a maximum 12-year term for senior officials, pay disclosures and a complete overhaul of the executive board, a group at the center of the majority of wrongdoing.
South Africa's Tokyo Sexwale suspended his campaign Friday, leaving Infantino, Salman, Prince Ali Bin al-Hussein of Jordan and former Blatter aide Jerome Champagne. In the first round, Infantino received 88 votes, three more than Salman. Prince Ali got 27 and Champagne 7.
Most of the support from Prince Ali and Champagne moved to Infantino in the second round. Salman had 88 votes in the second ballot.
"Democracy"
The competitive election "was a great sign of democracy in FIFA," Infantino said. "I want to be president for all of you. I want to work with all of you to rebuild a new era of FIFA, where we put football at the center."
While pledging his support for proposed reforms that include term limits and pay disclosure, Infantino also promised to double spending for FIFA's 209 national soccer associations. That strategy often worked for Blatter, who won five presidential elections on promises of generosity to smaller, cash-strapped countries.
Infantino grew up Brig, Switzerland, a town less than 10 kilometers (6.2 miles) from Blatter's hometown of Visp. In the late 80s, he studied law at the University of Fribourg, a bilingual town that straddles the French- and German-speaking divide in Switzerland. At a recent press conference, he answered legal questions in French, German, Italian, Spanish and English.
He ran the International Centre for Sports Studies at the University of Neuchatel before joining UEFA in 2000. He became director of UEFA's legal affairs in 2004, before becoming secretary-general, the organization's No. 2 job, in 2009.
Before it's here, it's on the Bloomberg Terminal.
LEARN MORE