markets
IMF'S Lagarde Still Sees Growth Even Amid Growing Global Risks
Bloomberg News
IMF'S Lagarde Still Sees Growth Even Amid Growing Global Risks
Bloomberg News
Seeing threats from global risk, credit, outflows, oil drop

Lagarde: Emerging markets a mixed bag of different situations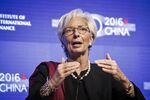 International Monetary Fund Managing Director Christine Lagarde said she still sees growth intact, even amid growing risks to the global economy.
As finance chiefs from the world's 20 biggest economies begin a two-day meeting in Shanghai, Lagarde cited threats from geopolitical risk, the credit cycle, capital outflows and falling commodity prices.
"We consider at the moment that the likelihood of materialization of such risks is slightly higher, but we still see growth," she said.
China is in a massive transition toward focusing on services and consumption, and the IMF strongly recommended that the nation set a growth target range of 6 percent to 6.5 percent, Lagarde said. The government this month said it set a 6.5 percent to 7 percent range for its economic growth target this year, slower than last year's goal of about 7 percent.
Meanwhile, the effects of central bank monetary policies, even innovative ones, are diminishing, Lagarde said Friday at an Institute of International Finance conference on the sidelines of the Group of 20 finance ministers and central bankers meeting.
The IMF this week urged the world's biggest economies to come up with new ways to support demand and contain risks as the outlook for global growth deteriorates. The Washington, D.C.-based fund wants G-20 nations to unleash fiscal stimulus and structural reforms. Officials including U.S. Treasury Secretary Jacob J. Lew have talked down prospects for a major global effort to stem financial-market turbulence.
Lagarde said that emerging markets are a mixed bag of different situations, and added that the IMF has been approached by several commodity-dependent countries seeking assistance from the fund's financial instruments.
"We are still in an environment where there is growth around, and I can understand why quite a few players are now saying there is an overreaction of the markets and there is probably too much anxiety that is currently warranted by what's happening in the fundamentals," Lagarde said.
— With assistance by Xiaoqing Pi, Jun Luo, Enda Curran, Gregory Turk, and James Mayger