Honeywell CEO Sold Stock 3 Days Before United Technologies Bid
by , , and
Cote sold $36 million of the aerospace firm's stock on Feb. 16

Honeywell fell as much as 2.4% on news reports of the talks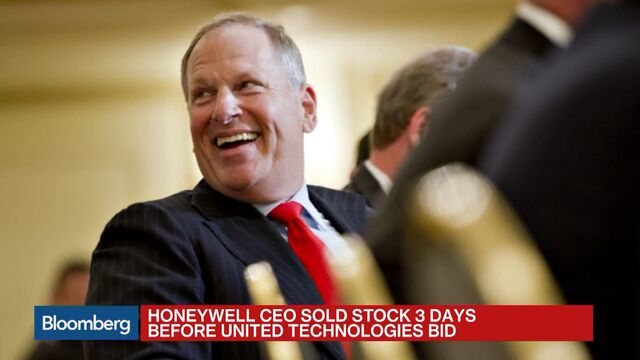 Honeywell International Inc. Chairman and Chief Executive Officer David Cote sold $36 million of shares in the aerospace manufacturer three days before it approached United Technologies Corp. with a purchase offer.

The sales -- representing half of Cote's stake, the highest proportion of three sales in the past year -- were executed on Feb. 16, Honeywell said in a regulatory filing. The document didn't indicate whether Cote used a pre-arranged stock-trading plan. Three days later, Honeywell met with United Technologies to present the bid. Shares of the Morris Plains, New Jersey-based company fell as much as 2.4 percent on Feb. 22 when the offer became public through news reports.

The sales may attract interest at the U.S. Securities and Exchange Commission, according to an enforcement attorney at the agency who asked not to be identified without authorization to speak publicly.
Rob Ferris, a Honeywell spokesman, didn't comment Friday on the share sales, speaking on behalf of the company and Cote. Judy Burns, an SEC spokeswoman, declined to comment.
"An executive generally can't go sell stock in his own company on the eve of a major acquisition," said Andrew Michaelson, a former enforcement attorney with the SEC, now a partner at Boies Schiller & Flexner LLP.
Trading Plans
Typically, executives adopt so-called 10b5-1 plans to trade a fixed number of shares at specified intervals. The plans, established by the SEC, are intended to shield executives and directors from the appearance of insider-trading.
Cote, 63, sold a total of 832,568 Honeywell shares on three occasions during the past year, each time at prices between $104 and $106 a share.
In the Feb. 16 trades, he disposed of 327,483 shares at a weighted average price of $104.81 and 17,453 shares at $105.57. The sales accounted for 50 percent of the 693,180 shares he held directly, including in a company retirement account, and through trusts as of Feb. 16, according to Honeywell's filing made the following day.
Prior sales on Nov. 19 of 183,834 shares accounted for 21 percent of shares he held directly and through those vehicles at the time. Sales of 303,798 shares in February 2015 accounted for 26 percent of the shares he held at the time. Those figures don't include unexercised stock options and shares held as deferred compensation.
Aerospace Behemoth
A combined Honeywell and United Technologies would create an aerospace behemoth with more than $90 billion in annual sales. The companies sell products including jet engines, thermostats, elevators and cockpit voice recorders.
Honeywell released details Friday of its $108-a-share offer, which it presented to United Technologies on Feb. 19. The Farmington, Connecticut-based maker of Otis elevators and Pratt & Whitney jet engines rejected the proposal hours later, saying it "grossly undervalues" the company.
Shares of companies making cash-and-stock acquisitions typically decline after a deal is announced, said Menachem Brenner, a finance professor at New York University's Stern School of Business.
Honeywell traded at $103.58 as of 1:50 p.m. in New York. At that price, Cote's stake would have been worth about $438,000 less if he hadn't sold shares on Feb. 16.
Before it's here, it's on the Bloomberg Terminal.
LEARN MORE