Goldman's Cohn Urges China to Convey Policies More Clearly
by
Unclear how successful China has been in spurring consumption

Cohn will `temper expectations' for G-20 meeting in Shanghai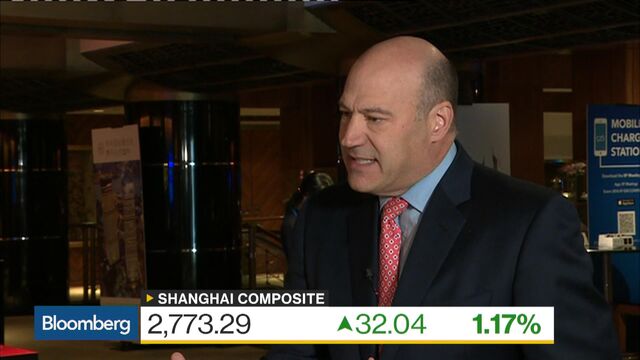 Goldman Sachs Group Inc. President Gary Cohn said he hopes that China will improve its communication of economic policies as financial markets try to discern what tools the nation has to stem its slowdown.
"We've all been telling the Chinese that more communication, clearer communication would be helpful for the market," Cohn, 55, told Bloomberg Television's David Ingles on Friday in an interview in Shanghai, where Group of 20 finance officials are meeting. "Hopefully, the Chinese are trying to more clearly communicate what their initiatives are going to be."
China is at the center of questions about where global growth is going to come from, Cohn said, hours after a spate of communication from the nation's policy makers that sent Asian stocks higher. People's Bank of China Governor Zhou Xiaochuan said there is scope for further actions to address downside risks to the world's second-largest economy, while the central bank published a statement defining its policy as "prudent with a slight easing bias."
China, which has kept benchmark interest rates at record lows since October, has been injecting liquidity and guiding market rates lower as it shifts to a market-based monetary framework. China's economy grew 6.9 percent last year, the weakest since 1990, as officials try to reduce its dependence on exports and manufacturing and spur domestic consumption.
'Big Mystery'
Cohn said the world is trying to figure out how successful China has been in making the transition to a consumer-driven economy.
"At what rate are they consuming and what economic growth is that creating? That is a big mystery to the markets right now," he said.
Cohn said he will "temper expectations that something really major" will emerge from the two-day G-20 meeting of finance ministers and central bankers. He said central banks should take a more global approach to monetary policy, with the U.S. and China among the few countries that have allowed their currencies to remain relatively strong.
The past five to seven years of low interest rates have done little to fuel growth and inflation, raising questions about how effective monetary policy has been, Cohn said. Countries have been lowering rates to weaken their currencies and expand their economy at the expense of others, he added.
"We got global problems with growth, we can't fix this with local monetary policy," Cohn said. "We have to talk about monetary policy more globally today than we ever have."
Before it's here, it's on the Bloomberg Terminal.
LEARN MORE