Fed's Mester Says Gradual Rate Hikes Still Right Call for 2016
by
U.S. economic outlook still positive amid risks from abroad

March rate rise should be `on the table' for policy makers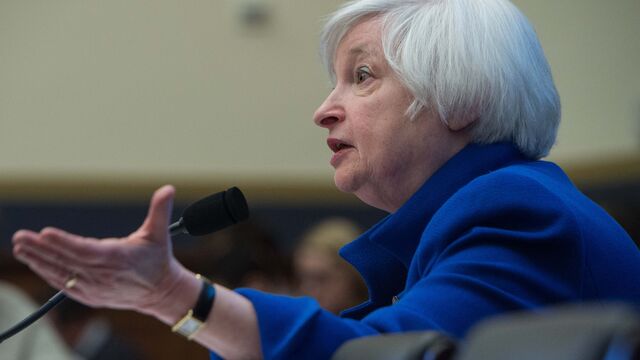 Federal Reserve Bank of Cleveland President Loretta Mester said fundamentals underlying the U.S. economy remain strong and the central bank should stay on track for a gradual tightening of monetary policy this year.
"Whether we increase in March or not, that's going to depend on the data and other people's views around the table," Mester said in an interview late Thursday in New York. "But my forecasts, and the risks around those forecasts, suggest we still want to see gradually rising interest rates."
Mester, a voter this year on the policy-setting Federal Open Market Committee, said she didn't think the Fed risked getting "way behind the curve" with respect to inflation. She said a rate hike by the FOMC shouldn't be ruled out at its March 15-16 gathering in Washington, though she didn't say whether she would press for one at the meeting.
"March should be on the table," Mester said. "We want to have a full discussion of the options."
The FOMC raised rates in December for the first time in almost a decade, to a range of 0.25 percent to 0.5 percent, then paused in January, saying it was "closely monitoring global economic and financial developments."
Global Uncertainty
Since that meeting Mester and her colleagues have continued to wrestle with uncertainty over whether this year's financial tumult and emerging-market economic woes will dim their outlooks for growth and inflation in the U.S., and thereby slow down the appropriate pace for tightening monetary policy in 2016. In December, the median projection from the FOMC's 17 members called for an additional four rate hikes this year.
In the past two weeks, St. Louis Fed President James Bullard said it would be "unwise" to raise rates while inflation expectations were declining, and Boston's Eric Rosengren said the Fed should be "unhurried," while Kansas City Fed chief Esther George said a March increase "absolutely should be on the table." All are voters this year.
Mester said recent developments haven't derailed the outlook for the U.S. economy.
Underlying Outlook
"You do have weak sectors -- and the global economy, there's downside risk there," she said. "But I don't figure them as being a material change in the underlying outlook."
Mester said in January she expected the economy to grow in 2016 "at an above-trend pace in the 2.5 percent to 2.75 percent range."
Between now and the FOMC meeting, Mester said she was keen to see new data on the labor market and manufacturing, which is likely to be weak because of the impact of a strong dollar on U.S. exporters.
Payrolls data due for February, due on March 4 will have an impact on consumer spending, she said. In manufacturing, "I want to see indications there that things are at least stabilizing a bit," she added.
Inflation, as measured by the Fed's preferred gauge, has been under the Fed's 2 percent target for more than three years. Mester said she expects it to gradually rise to this goal.
Inflation Expectations
Viewed as modestly hawkish by many economists who follow the Fed, Mester also said she is not worried by some measures showing a decline in inflation expectations, a fact that Bullard said Thursday made him "worried."
"To my mind inflation expectations remain reasonably well-anchored, and moreover, people are not behaving as if they expect underlying inflation to be a problem," she said.
Americans have not delayed purchases because they expected prices to drop, she said. Consumers may not have spent all of the savings created by cheaper gasoline, she said, but that could be due to scars left over from the financial crisis and recession.
"This is one of those events that's going to affect people's psyches for a long time," she said. "And the fact that people are saving a bigger share of that windfall than they might have in the past just means they're going to be in a better position for future consumption. I don't see that as a negative."
Before it's here, it's on the Bloomberg Terminal.
LEARN MORE