Five Things You Need to Know to Start Your Day
Get caught up on what's moving markets.
by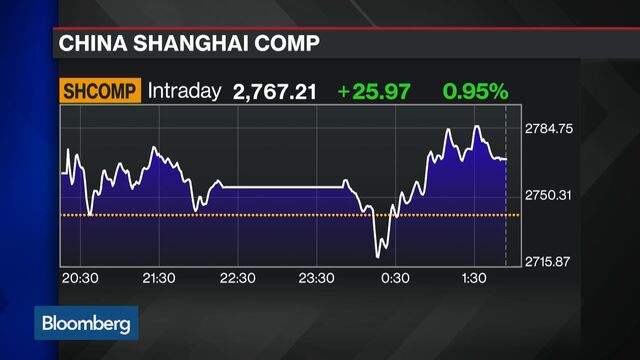 China hints at more stimulus, RBS plummets after reporting (another) loss, and the G20 meeting of finance minsters begins. Here are some of the things people in markets are talking about today.
China sends a stimulus signal
The People's Bank of China tweaked the description of its monetary policy stance overnight, defining current policy as "prudent with a slight easing bias." While the change may seem small, it is being viewed as a clear signal to markets when coupled with comments from Governor Zhou Xiaochuan in which he said: "China still has some monetary policy space and multiple policy instruments to address possible downside risks." The Shanghai Composite Index rallied 1 percent, regaining some stability following Thursday's plunge of over 6 percent.
RBS plummets
Shares in Royal Bank of Scotland Group Plc fell as much as 12 percent in London trading after the bank reported a net loss of £1.98 billion ($2.77 billion), its eighth annual loss. The bank, in which the U.K. government has a majority stake, said that it expected income to decline at its investment bank unit in 2016. Chairman of the bank, Howard Davies, said that his firm is not pursuing highly paid investment bankers anymore as the securities unit shrinks. Shares in RBS were trading 8.2 percent lower at 11:04 a.m. in London.
Stocks rally
RBS aside, shares in Europe are staging a recovery this morning, taking their lead from China and yesterday's rally in the U.S. At 11:08 a.m. London time the Stoxx Europe 600 Index was 1.5 percent higher while the U.K.'s FTSE Index gained 1.1 percent to wipe out its February losses. S&P 500 futures were 0.7 percent higher. There's a slew of economic data coming out in the U.S. today including GDP, Personal Income & Spending, Core PCE (the Federal Reserve's preferred measure of inflation) and University of Michigan Consumer Sentiment.
G20 meeting
The meeting of G20 economic officials in Shanghai is taking place today, with investors looking for signs that finance ministers are ready to take action to bolster global growth. German Finance Minister Wolfgang Schaeuble was quick to pour some cold water on hopes for extra stimulus saying that the global economy needs reform, not stimulus. Gary Cohn, president and chief operating officer at Goldman Sachs, believes expectations for action from the meeting are too high. Citigroup Inc.'s Steven Englander has warned that markets may be disappointed if the language from the meeting is the same as from the last meeting.
Elections
While most eyes continue to be on the U.S. primaries, there's an actual election happening in Ireland today. Despite economic success, polls suggest that the current Fine Gael/Labour coalition will not gain enough seats in the parliament to form a new government following the vote. Ireland does not use electronic voting, and has a somewhat complex single-transferable-vote system where voters can rank candidates in order of preference meaning the count can take up to week. Polling closes at 10 p.m. local time, with counting not even beginning until 9 a.m. Saturday.
What we've been reading 
This is what's caught our eye over the last 24 hours.
Want to receive this post, and more, into your inbox every morning? Sign up here
Before it's here, it's on the Bloomberg Terminal.
LEARN MORE