China's Stocks Stabilize After Rout as Zhou Sees Room to Ease
Bloomberg News
PBOC Governor Zhou highlights scope for further actions

Shanghai Composite tumbled most in a month on Thursday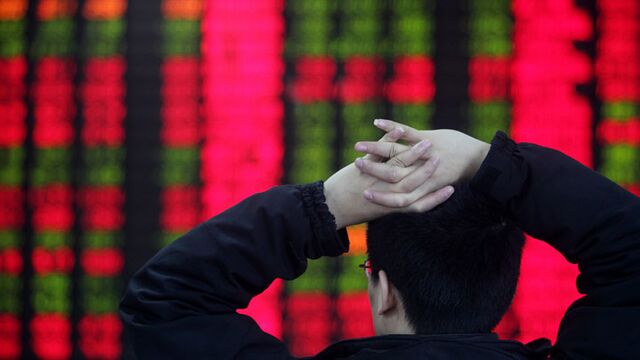 Equilibrium returned to China's stocks after Thursday's turmoil as the central bank Governor Zhou Xiaochuan said policy makers have room for further easing to stimulate economic growth.
The Shanghai Composite Index climbed 1 percent to 2,767.21 at the close, after plunging 6.4 percent Thursday. Stocks tumbled amid signs of tighter liquidity and concern that planned reforms of initial public offerings will lead to an increased supply of small-company shares. The regulator denied speculation the new registration system will begin with the ChiNext small-cap board. Energy producers led gains in Shanghai and Hong Kong, where the benchmark Hang Seng Index jumped 2.5 percent.
China's policy makers are seeking to project an image of stability in the nation's financial markets after months of turbulence reverberated across the world and as the economy slows. Finance chiefs and central bankers from the Group of 20 are meeting in Shanghai, while the annual meeting of the legislature begins in Beijing next week. China still has "some monetary policy space" and "multiple policy instruments to address possible downside risks," Zhou said.
"The central bank chief's comment has eased market concerns a bit and the overall liquidity condition is still going to be loose," said Wei Wei, an analyst at Huaxi Securities Co. in Shanghai. "It looks like investor sentiment is fragile so the market isn't likely to stabilize soon. We are going to see volatile trading."

The Shanghai Composite fell 3.3 percent this week, while a gauge of 50-day price swings has climbed to the highest levels since November. Unprecedented state intervention in the equity market after last summer's $5 trillion rout has failed to prop up shares this year, with the benchmark gauge losing 23 percent -- the most worldwide after Greece.
The PBOC said on Friday that China's monetary policy is prudent with a slight easing bias and that there's no basis for continued yuan depreciation. China hasn't cut benchmark interest rates since October.
"Given the current situation of the Chinese and global economy, our monetary policy is now prudent and relatively accommodative," Zhou said. "We still need to closely monitor developments and make adjustments as appropriate. China still has some monetary policy space and multiple policy instruments to address possible downside risks."
The Hang Seng China Enterprises Index halted three days of losses, climbing 2.1 percent. The Hang Seng Index completed its biggest gain since Feb. 15. Trading volumes in Shanghai were 2 percent below the 30-day average, while Hong Kong's turnover was 10 percent lower.
The overnight money rate fell eight basis points in Shanghai, snapping a four-day increase, after the central bank stepped up injections in open-market operations. The yuan slipped 0.04 percent against the dollar in Shanghai.
Steelmakers Jump
The CSI 300 Index rose 1 percent. Measures of energy and material stocks climbed at least 2.9 percent for the biggest gains among 10 industry groups in the large-cap gauge.
Coal producers led a rally for energy producers, with Yanzhou Coal Mining Co. and Shanxi Lu'an Environmental Energy Development Co. surging by the 10 percent daily limit amid speculation measures to curb overcapacity will be discussed at next week's National People's Congress.
Angang Steel Co. increased 3.9 percent. The market share of China's 10-largest steel producers will increase as the government pushes for industry consolidation in a bid to alleviate overcapacity, according to Bloomberg Intelligence.
In response to Thursday's market decline, the CSRC also said on its microblog that it never asked brokerages to suspend or resume short selling after Founder Securities Co. said it will restart the business on Feb. 29. Founder Securities rose 1.2 percent, while Haitong Securities Co. jumped 2.2 percent.
Margin traders reduced holdings of shares purchased with borrowed money by the most in three weeks on Thursday, with the outstanding balance of margin debt on the Shanghai Stock Exchange falling by 1.3 percent to 513.6 billion yuan ($78.6 billion).
— With assistance by Shidong Zhang, and Kyoungwha Kim
Before it's here, it's on the Bloomberg Terminal.
LEARN MORE