China's Buying Spree Shows Force of Desire for U.S. Firms
by and
Acquirers from China keep M&A volumes afloat in rocky markets

Overcoming regulatory concerns leads to big premiums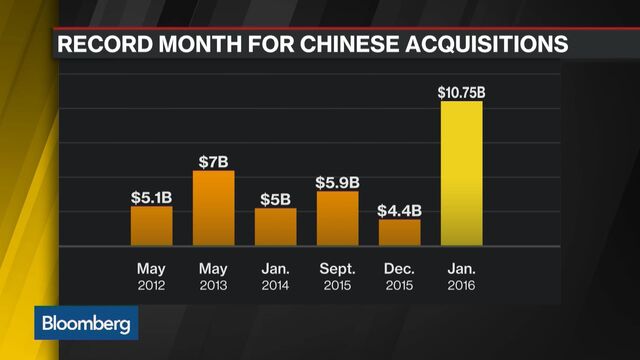 After a record-breaking 2015, dealmakers have pulled back this year as market volatility spooks both buyers and targets. But for U.S. companies still intent on cashing out, China is playing the white knight.
Already this year, Chinese buyers have proved they're willing to pay high prices for U.S. targets -- often outbidding domestic suitors -- even as equity markets in both countries swing wildly. After just 56 days of the year, Chinese companies have announced about $80 billion in outbound deals, more than 63 percent of 2015's entire annual volume, according to data compiled by Bloomberg. And the torrent isn't likely to stop.
China's Haier Group Corp. agreed to buy General Electric Co.'s appliance unit for $5.4 billion last month, beating rivals with a price that was substantially higher than other bids, according to a person familiar with the matter. The Shanghai-listed company said it paid a premium for GE's long history, brand value and supply chain.
A representative for GE didn't immediately respond to a request for comment.
Chinese companies and funds are turning to the U.S. as their domestic economy slows, growing at the slowest pace last year in a quarter century. China's year-over-year gross domestic product rose 6.8 percent last quarter, its lowest growth rate since 2009. The government's desire for technology to meet its national demand has led it to publicly encourage foreign acquisitions in the coming years, driving the wave of U.S. deals.
Including Chinese acquirers, global M&A volumes are about 20 percent higher than this time last year, at $424 billion. Excluding them that number falls to $322 billion, a year-on-year decline.
"Chinese companies are willing to overpay for something in the U.S., because they can grow that business domestically and have access to a market that's able to support the valuation," said Dan Clivner, M&A partner at Sidley Austin LLP. "They're building blocks."
High Premiums
As companies rushed to consolidate last year, buoyant markets drove both mega-deal premiums and the debt that financed them. Now, with potential targets losing market value as well as one of the biggest credit-market selloffs in years, executives aren't feeling so trigger happy. That's where China comes in.
China is prepared to pay significant premiums for businesses because national companies are well-positioned to rapidly scale businesses to large numbers of customers in the domestic market, said Chuck Comey, M&A Partner at Morrison & Foerster LLP, who specializes in cross-border deals. Chinese buyers are looking for product lines and research and development capability from U.S. semiconductor, pharmaceutical and cloud-based enterprise and other software companies that can be quickly scaled abroad, he said.
To buy GE's appliances business, Haier paid 10 times the division's earnings over the last year before interest, taxes, depreciation and amortization, GE said when the deal was announced. That's compared to the 7.3 times Ebitda that Electrolux agreed to pay for the same unit just over a year earlier, a deal that ultimately fell apart. Under the terms of the agreement, Haier can continue using the GE brand for 40 years, including in China -- and boost its 1.1 percent slice of the U.S. market.
The largest deal of the year, the $43 billion acquisition of Switzerland's Syngenta AG, had a Chinese buyer -- China National Chemical Corp. Dalian Wanda Group Co. said last month it agreed to acquire Hollywood film company Legendary Entertainment for $3.5 billion, a price that looks far too high on the surface, Clivner of Sidley Austin said.
"You know how there's Bollywood? This is Bamboo-wood," Clivner said. "China wants to build a movie industry."
Paying top dollar for U.S. companies may not be healthy for China. Many Chinese companies are loaded with debt, and making multibillion-dollar deals isn't smart corporate finance, said Kalai Pillay, head of North Asia industrial ratings at Fitch Ratings, based in Singapore.
"Not all of them are starting from a balance sheet that, under normal circumstances, would allow them to make such large acquisitions," Pillay said. "They're horrendously over-levered. Still, it's no surprise they are all looking abroad. If the right opportunity comes along, then they will go for it."
Credit Rating
For better or worse, expect the Chinese parade to continue, said Clivner. An arm of HNA Group Co., which owns China's fourth-largest airline, announced it agreed to buy Santa Ana, California-based information technology firm Ingram Micro Inc. for about $6 billion this week. Terex Corp., the U.S. crane and construction-machinery maker, received an unsolicited bid last month from China's Zoomlion Heavy Industry Science & Technology Co.
Zoomlion's long-term credit rating was downgraded to B+ from BB by Fitch Ratings on Feb. 4, with a negative outlook. The company's ability to pay debts -- indicated by its free cash flow to total debt -- is negative, while its total debt as a percentage of common equity stands at 107 percent, according to data compiled by Bloomberg.

ChemChina's debt-to-equity ratio is even higher, at about 537 percent, the data show. The company also has negative free cash flow, compared to its total debt.
Chinese bidders aren't always successful. After about $17 billion of acquisitions in the past year, HNA Group failed in its attempt to buy London City Airport, losing out to a bid from a group including AIMCo, Ontario Teachers' Pension Plan and Kuwait Investment Authority, according to people familiar with the bidding process.
Another Chinese fund is in negotiations to pay an unaffected premium of more than 80 percent for Synaptics Inc., the San Jose, California-based maker of touchscreen technology, people familiar with the matter said last month. That would be the highest premium paid for any technology company of more than $1 billion in the past year, according to data compiled by Bloomberg.
CFIUS Pressure
Chinese funds also know that convincing foreign companies to sell to them, given intense regulatory pressure from the Committee on Foreign Investment in the United States, or CFIUS, can be a difficult proposal. Paying higher premiums can convince U.S. targets to roll the dice on regulatory approval.
"There's no question top dollar will come from Chinese buyers," said Alex Lidow, chief executive officer of El Segundo, California-based Efficient Power Conversion Corp. and founder of chipmaker International Rectifier Corp. "Chinese interest will force the U.S. government to lay out ground rules on what's acceptable. We'll still see premium pricing from China on anything that's open to them."
CFIUS is already making its presence felt. When Western Digital Corp. rejigged its offer for rival SanDisk Corp. this week, it did so because a plan to sell a 15 percent stake in itself to a Chinese investor fell apart. China's Tsinghua Unisplendour Co. pulled the plug on its $3.8 billion investment after learning that CFIUS would investigate the transaction.
U.S. Sanctions
Concerns about intellectual property theft and cyber attacks have fueled unease about Chinese acquisitions. Last year, the U.S. threatened sanctions against China if it didn't do more to curb hacks against economic interests after officials pointed to China as the source of a hack into government personnel records.
While pitching a big premium and ignoring questions about regulatory risks may get U.S. targets to the table, it isn't always a slam dunk. Fairchild Semiconductor International Inc. said last week a $22-per-share bid from China Resources Microelectronics Ltd. and Hua Capital wasn't superior to ON Semiconductor Corp.'s $20-per-share offer. Despite the higher price, Fairchild's board said shareholders "would be bearing an unacceptable level of risk for a failure to obtain CFIUS approval," according to a company filing.
Still, it's not enough to put everyone off: Chinese firms are also in talks to acquire at least two other U.S. technology companies worth more than $1 billion, according to people familiar with the matter.
Given CFIUS concerns, the end result may be Chinese buyers finding it necessary to pay even higher premiums to assuage U.S. board and management fears, Comey said.
"Fairly or unfairly, it's now clearly the case that Chinese deals are viewed differently."
Before it's here, it's on the Bloomberg Terminal.
LEARN MORE