Global Slowdown Concerns Policy Makers as Fed, ECB Ponder Rates
by , , and
Brainard says Fed policy path may be lower than anticipated

Praet says weakening indicators are warning sign for ECB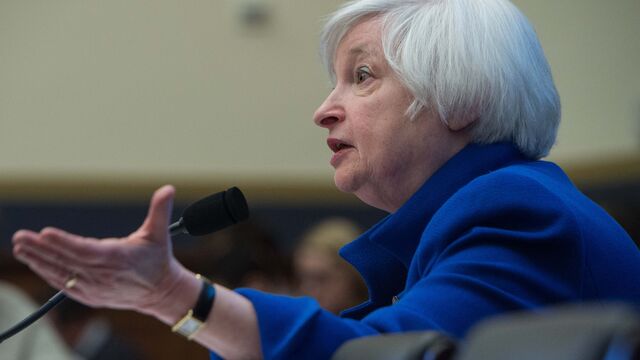 Central bankers from the U.S. and Europe said weaker global growth will affect the economic outlook and may have implications for the pace of monetary policy divergence.
Federal Reserve Governor Lael Brainard said Friday at a panel discussion in New York that the pace of interest-rate increases in the U.S. may be slower than previously anticipated, as she urged officials across the world to coordinate efforts to increase demand. European Central Bank Executive Board member Peter Praet said at the same event that weaker readings on the European economy are a warning sign.
Their comments come as finance ministers and central bankers from the Group of 20 developed and emerging market economies gather in Shanghai to discuss how best to revive the world economy. While U.S. and Chinese officials called for increased government spending, Germany argued that using debt to fund growth just leads to "zombifying" economies.
"As policy adjusts to the evolution of the data, the combination of heightened spillovers from weaker foreign economies, along with a lower neutral rate, could result in a lower policy path in the United States relative to what many had predicted," Brainard said. "The difficult start to the year should be a prompt for greater policy coherence and clarity. This might be a good time for policy makers to reaffirm their commitment to work toward the common goal of strengthening global demand."
The International Monetary Fund cut its projections for 2016 world growth to 3.4 percent in January and lowered its estimate for 2017 to 3.6 percent. In both years, it foresees expansions of 2.6 percent in the U.S. and 1.7 percent in the euro area.
"In some economies there is scope for monetary policy to be more effective with fiscal policy working in the same direction," said Brainard, who attended G-20 meetings in her previous role as the Treasury Department's top international official. She joined the Fed in 2014. "A joint determination by policy makers across major economies to better deploy policy tools to provide support for global demand could be beneficial," Brainard said.
Warning Sign
Praet noted that global growth is losing momentum, and "if you look at Europe, you can see some weakening of indicators. It's not dramatic, but I think it's kind of a warning."
ECB officials have held out the prospect of more stimulus as early as next month as inflation in the 19-nation region remains stubbornly below the bank's goal of just under 2 percent. Annual consumer prices probably stagnated in February and are expected to decline in the coming months.
The Fed's preferred measure of inflation accelerated to 1.3 percent in January, illustrating the challenge for U.S. central bankers as they consider tighter monetary policy amid feeble global markets. Policy makers raised rates in December for the first time in almost a decade. They hold their next meeting on March 15-16.
Stay on Track
Cleveland Fed President Loretta Mester, a voter this year on the policy-setting Federal Open Market Committee, said in an interview published earlier on Friday that fundamentals underlying the U.S. economy remain strong and the central bank should stay on track for a gradual tightening of monetary policy this year.
Brainard signaled she was less confident.
She said that the Chinese economic slowdown may pose risks to the U.S. outlook. While America's unemployment rate has declined below 5 percent, there's evidence that some slack remains in the U.S. labor market, Brainard said. At the same time, inflation has remained low and expectations for future price growth have fallen.
"We should be cautious in relying on the historical relationship between employment gains and stronger inflation in today's economy," she said. "This deterioration in inflation expectations and a weakened link between labor market tightening and inflation -- together with the asymmetry of policy in the vicinity of the lower bound -- lead me to put a high premium on evidence that actual inflation is firming sustainably."
Before it's here, it's on the Bloomberg Terminal.
LEARN MORE