Alfred Mann, Pioneering Designer of Medical Devices, Dies at 90
by and
Designed the world's first rechargeable heart pacemaker

Signed 'Giving Pledge,' promising to give away his wealth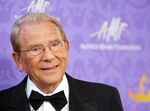 Alfred Mann, a physicist and inventor who founded more than a dozen companies to sell pioneering biomedical devices such as the first rechargeable pacemaker, an artificial retina and inhalable insulin, has died. He was 90.
He died Feb. 25 in Las Vegas, days after resigning as executive chairman of MannKind Corp., the company, which makes Afrezza inhaled insulin, said Friday in a statement.
"He will be terribly missed by many, including the countless patients around the world with diabetes and other serious illnesses, whose lives he improved," MannKind Chief Executive Officer Matthew Pfeffer said in a press release.
Mann took Valencia, California-based MannKind public in 2004, running the company through the start of 2015 and serving as chairman until last week. An agreement with Paris-based Sanofi to distribute Afrezza ended in January amid concern about lackluster sales.
MannKind was one of at least 14 companies Mann founded since 1956 in the health, medical-device and aerospace industries. Nine were sold for a combined total of about $8 billion and three became publicly traded companies, according to MannKind's website.
He became a billionaire and owned stakes valued at more than $200 million in MannKind and Second Sight Medical Products Inc., the maker of a retina implant, according to data compiled by the Bloomberg Billionaires Index.
Giving Pledge
Mann used his wealth to develop technologies aimed at helping people with diabetes and limb loss through his Alfred Mann Foundation, begun in 1985. He also funded biomedical institutes, including one bearing his name at the University of Southern California.
He signed the Giving Pledge, the drive by Bill and Melinda Gates and Warren Buffett to get billionaires to give away most of their fortunes. At the time of his death, Mann had promised to donate at least 90 percent of his fortune to charitable causes, including medical research, according to a letter posted on the Pledge's website.
"I have been very fortunate in having been born to exceptional parents in this great country," Mann said in the letter. "I came from humble beginnings and grew to become a young scientist pioneering in a field of electro-optical physics."
True Believer
Mann put almost $1 billion of his own money into the fast-acting Afrezza inhaled insulin treatment. It won approval of the U.S. Food and Drug Administration in 2014 after two rejections, and after Pfizer Inc. had abandoned its own version, Exubera, in 2007.
"He has a way of seeing things through in spite of naysayers," Glen Nelson, the former vice-chairman of Medtronic Inc., said in a 2008 Bloomberg News interview on the eve of final-stage trial results for MannKind's Technosphere system of delivering the insulin.
Alfred E. Mann was born Nov. 6, 1925, according to the Alfred E. Mann Institute for Biomedical Engineering at USC. He graduated from the University of California, Los Angeles, and, in 1951, earned a master's degree in physics from the school.
Five years later, he founded Spectrolab, which sold solar panels to the U.S. space program for use in satellites and spacecraft. After several owners, it became a subsidiary of Boeing Co. in 2000.
Pacemakers, Pumps
In 1969, he founded Pacesetter Systems Inc. with Robert Fischell, an engineer at the Johns Hopkins University Applied Physics Laboratory in Laurel, Maryland. They developed the first rechargeable pacemaker and their company eventually became the world's No. 2 seller of pacemakers. It was purchased by Munich-based Siemens AG in 1985 for $150 million, which later sold it to St. Jude Medical Inc. of St. Paul, Minnesota.
Mann's MiniMed Inc. went public in 1995 and, under his guidance, grew into the world's largest maker of insulin pumps. Six years later, Medtronic, now based in Dublin, purchased it for $3 billion.
In 2004, he sold Advanced Bionics Corp., a maker of cochlear implants and pain-management products, to Marlborough, Massachusetts-based Boston Scientific Corp. for about $740 million. The companies unwound the purchase in 2007, with Boston Scientific retaining the pain-management unit. The ear implant business was acquired by Staefa, Switzerland-based Sonova Holding AG for $489 million in 2009.
At the time of Mann's death, he was involved with at least five companies, including technology startup RoundTrip and Second Sight.
Second Sight
Second Sight, founded in 1998, manufactures the Argus II retina implant for blind patients who still have a functioning optic nerve. The Sylmar, Californa-based company went public at the end of 2014 under the ticker symbol "EYES," marking the start of Mann's next challenge: connecting the implant to the surface of the brain to stimulate vision.
Above all, Mann was known for his dogged persistence. At the time of Second Sight's IPO, his team described him as having the requisite stamina to make the goal of curing blindness a reality.
"He's joked before that he's set a retirement date for when he's 144 years old," Second Sight Chairman Robert Greenberg said when the company went public. "It's not work for him, I think, it's just what he's been put on this earth to do."
Survivors include his wife, Claude.
Before it's here, it's on the Bloomberg Terminal.
LEARN MORE