ZEW's Fuest Says Beware of Over-Regulation Choking German Growth
by
Germany needs to focus more on policies to spur economy

Integrating migrants may take longer than anticipated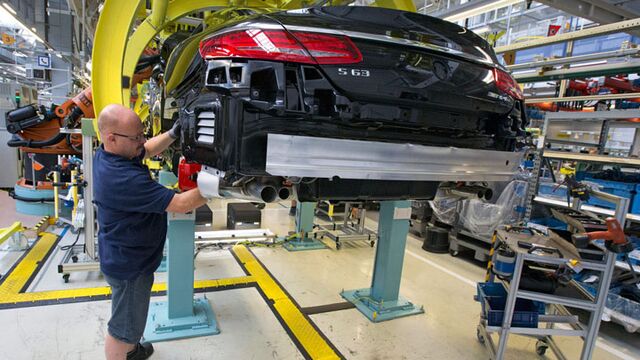 Germany should focus less on regulating the economy and more on putting in place the conditions for future growth if it is to overcome the challenges of its aging population, said Clemens Fuest, incoming president of the Ifo economic institute in Munich.
"Regulatory intervention -- in the rental market, for instance -- can easily become counterproductive," Fuest, who is currently the head of the Mannheim, Germany-based ZEW institute, said in a Bloomberg TV interview. "There has been a tendency of focusing too much on redistributive policies and too little on future growth. My advice would be turn that around."
Europe's largest economy grew 1.7 percent in 2015, a faster rate than most of its euro-area peers, leaving the government with a 19.3 billion-euro ($21.3 billion) surplus in its coffers, the highest since the country was unified in 1990. But the strong labor market is the fruit of reforms carried out in the early 2000s, and the boost to economic activity from cheap oil and the weak euro is at risk of fading this year, said Fuest, who will succeed Hans-Werner Sinn as Ifo's head in April.
Economic growth should still be "relatively solid," though "maybe not as good as some people hoped last year," Fuest said. "Expectations were very positive last year and now this has been affected by a number of things: first of all some uncertainty about the immigration wave, it's not clear how it's going to end, and then there's concern over some of our markets."
A China-led slowdown in emerging markets is weighing on Germany's export-oriented manufacturing industry. Net trade was a drag on gross domestic product last year.
"In the past, German exporters have always been able to compensate," shifting to new growth markets when others struggled, he said. "They will have to show that ability again."
The arrival of about 1 million migrants in 2015 from countries such as Syria and Afghanistan is putting a strain on Germany's welfare system and spurring a backlash against Chancellor Angela Merkel's open-door policies. Bundesbank President Jens Weidmann said on Wednesday that the migration of refugees will add a little over 0.25 percentage point to potential growth in 2016 and 2017 if the migrants join the labor market.
"Experience with past migration waves suggest that migrants from countries affected by war and violence take a long time to integrate in the labor market," Fuest said. " They face difficulties that economic migrants, people motivated by jobs to come here, don't face. It will take some time and a lot will depend on policies, how much effort will be spent on integrating these people."
Before it's here, it's on the Bloomberg Terminal.
LEARN MORE