What to Watch: U.K. Assets' Key Event Risks Ahead of Brexit Vote
Here's what to watch over the four-month campaign.
by and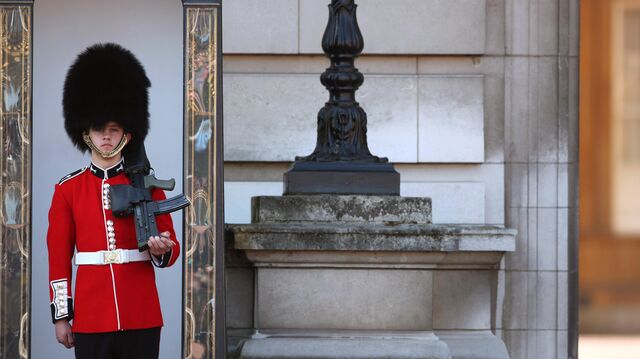 The pound and other U.K. assets may see an impact from swings in opinion polls, campaign strategies by the "remain" and "leave" groups and external market risks, should these factors change the likely outcome of the referendum on EU membership. Here is what analysts and investors will be monitoring in the four months to June 23.
Opinion polls; betting odds
Deutsche Bank chief economist George Buckley says polls currently show a wide range of possible results, though they come down firmly in the favor of staying in when undertaken on the assumption Prime Minister David Cameron campaigns hard to "remain" on the back of a successful renegotiation.
Morgan Stanley analysts say telephone polls will be particularly important for the pound, providing another downward leg if the "leave" camp gains ground. Morgan Stanley U.K. economist Jacob Nell says betting odds will become more important closer to the vote, as the sums involved increase.
Meanwhile, JPMorgan economist Allan Monks says how the undecideds vote, assuming they do, will be key.
Campaign leadership and strategies 
The unorganized "leave" campaign may see an uphill struggle to raise support from current levels, Nomura analysts say.
It may be difficult for the "leave" campaign to articulate what an alternative would look like and what U.K. would look like after an exit, UBS WM economist Bill O'Neill says. Previous experience has shown there's a bias toward the status quo, he adds.
Cosimo Marasciulo, head of government bonds at Pioneer Investments, says he will be watching for Scottish or Welsh politicians lobbying, or talking about the possibility of independence referendums, after any Brexit vote.
How the ruling Conservative party manages its divisions 
While Cameron and the U.K. chancellor will campaign for continued EU membership, some government ministers and London mayor Boris Johnson said they will campaign to leave.
Michael Gove's decision as a "principles first" politician has garnered respect within Conservative ranks, and could push the number of Tory MPs campaigning to leave closer to 100, Eurasia analyst Mujtaba Rahman writes.
One question will be how the debate damages the ruling party, UBS WM's O'Neill says, adding that the dynamics between the local organizations, MPs and the front bench will also be of interest.
The "Leave" campaign could appeal to both anti-immigration and deregulation voter groups, Morgan Stanley's Nell says. London mayor Johnson could help make voting for Brexit seem socially acceptable, and ff Johnson is very actively involved, the likelihood of U.K. leaving increases, according to Nell.
The Electoral Commission decision
The Electoral Commission's deadline to determine the official "leave" and "remain" campaigns is April 14. The decision determines, among other things, how much the different campaigns can spend in the run up to the vote.
Spending limits for political parties give the "remain" camp considerably more firepower because the Conservatives, Labour, Liberal Democrats and SNP are all likely to back it, while only UKIP and Ireland's DUP will campaign to leave, Societe Generale economist Brian Hilliard says.
The U.K. economy
Christophe Donay, head of asset allocation and macro research at Pictet Wealth Management, says U.K. economic issues should influence the vote, especially economic growth, job creation and household revenue growth.
The domestic economy, and any sense of a need to kick the government, could weaken the "remain" camp, UBS WM's O'Neill says. Economic data and employment numbers are okay for now, while the misery index is at its lowest level for generations. However, a sense of economic and financial vulnerability could make voters more inclined to want to keep status quo, O'Neill adds.
The stance of non-political groups
Any expectation that at least half of the FTSE 100's CEOs will declare their backing for the "remain" campaign is likely to sway voters toward the same side at a time of rising economic uncertainty, Eurasia's Rahman says.
FTSE bosses are fighting along with the "remain" camp, and should hopefully give better insight to their workers vis-à-vis the risks related to such a big decision, according to LCG analyst Ipek Ozkardeskaya.
Political events in Europe
German Chancellor Angela Merkel's party could be damaged on any lack of a region-wide agreement on immigration in German regional elections, UBS WM's O'Neill says. Iberian peninsula events will be key, particularly if there are new elections in Spain that confirm the anti- incumbent, anti-establishment movement is well-installed. Greece negotiations with creditors will also be in focus, O'Neill adds.
Does the vote become about about something other than EU membership?
The migrant crisis will significantly influence the vote and could bolster the "leave" campaign. It's a top topic, if not the biggest concern for people in the U.K., Pictet's Donay says.
Berenberg chief economist Holger Schmieding says the referendum may turn into a de facto vote on immigration, rather than the commercial advantages of belonging to the biggest single market, if Cameron doesn't play his cards well.
Any financial deterioration in Europe would be perceived as another black mark against the European project, UBS WM's O'Neill says.
Newspaper coverage
Rabobank analyst Jane Foley says the press will have an important part to play. In a poll earlier this month that put the "leave" campaign ahead, YouGov indicated the vote was heavily impacted by negative headlines on EU reform proposals in the right-wing press, Foley adds.
There's no escaping the fact that the balance of U.K. media is negative toward Cameron's deal and to Europe more widely, Eurasia's Rahman says.
Before it's here, it's on the Bloomberg Terminal.
LEARN MORE