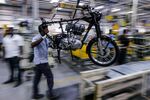 Every week, hosts Tori Stilwell, Dan Moss and Aki Ito bring you a jargon-free dive into the stories that drive the global economy.
India has the world's fastest-growing major economy and a population that's on course to be the world's largest -- eclipsing China -- within a decade. The nation's leaders are just as ambitious, launching the global "Make in India" campaign to buttress its status as a manufacturing powerhouse for cars, electronics and engineering equipment.
Maybe you've seen the billboards in Hannover or San Francisco. It's the sort of issue that Prime Minister Narendra Modi campaigned on two years ago. He won in a landslide of epic proportions, but since then much of his agenda has stalled. What's holding India back? Bloomberg's Unni Krishnan, who covers Indian politics and economics in New Delhi, joins Dan and Aki this week to explain.
Before it's here, it's on the Bloomberg Terminal.
LEARN MORE