The Red Ink Is All Over Trudeau's First Budget
A shortfall in tax revenue and extra spending drive up the deficit.
By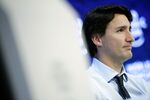 A fading Canadian economy is putting Justin Trudeau's optimism to the test. On Feb. 22 growth projections for 2016 were lowered from 2 percent to 1.4 percent. Canada's dollar fell almost 10 percent against the greenback in Trudeau's first 11 weeks in office. Now his finance minister has previewed the March 22 budget by revealing that the deficit will be higher than Trudeau's Liberal Party anticipated.
All three of the commitments Trudeau gave during the autumn campaign to quell concerns about his fiscal management are falling by the wayside. He pledged the budgetary shortfall would be no more than C$10 billion ($7.3 billion) a year. Minister of Finance Bill Morneau is signaling that the figure will be closer to C$30 billion ($22 billion) once campaign promises are factored in. That will make it unlikely that Trudeau can fulfill his other two commitments: to balance the budget by 2019 and keep decreasing the national debt as a share of the economy.
Despite all the negative economic news, driven in large part by the collapse of oil prices, the rookie leader and son of former Prime Minister Pierre Trudeau is more popular than ever. Deficits "won't hurt his numbers until there's some economic event that actually affects people's daily lives," such as layoffs or another plunge in the dollar, says Toronto pollster Lorne Bozinoff of Forum Research. A poll in February found support for Trudeau's party at 49 percent, up from 39 percent on Election Day in October. "He's in the honeymoon phase still a little bit," says Bozinoff. "He's got that, but he's got to now start to really deliver."
Many of Canada's foremost economists back deficit spending. Economist David Rosenberg of investment managers Gluskin Sheff has said deficits of C$50 billion are appropriate in this slow-growth environment. A C$30 billion deficit is equal to just 1.5 percent of gross domestic product, a level most governments would gladly take. The U.S. budget gap was almost twice that last year, according to the Congressional Budget Office. Canada's debt, at about 31 percent of GDP, remains among the lowest for Group of Seven nations, giving Trudeau room to apply stimulus to the struggling economy.
His midcampaign promise to run deficits to spark growth separated him from his opponents. Canadians have been leery of deficits since experiencing a quarter-century of them, beginning with Trudeau's father. After a painful adjustment in the mid-1990s, Canada ran surpluses until the Great Recession. Former Prime Minister Stephen Harper staked his economic bona fides on returning the budget to balance in the runup to the election, but voters preferred Trudeau's pledge of more infrastructure spending to boost the economy.
Most of the gap for this year reflects plunging government revenue, not Trudeau's ambitious spending plans. Canada is in transition as it seeks more sources of growth amid the commodities decline.
Among Trudeau's tasks is replacing the part of GDP that's disappeared since 2014. "The economy has been hit by the drop in energy sector capital spending, which in 2014 was worth about 3 percent of GDP and is in the process of falling to half that level," says Avery Shenfeld, chief economist at the Canadian Imperial Bank of Commerce. A graying population and slow productivity growth make it harder to restore that lost 1.5 percent of GDP.
Although many of Canada's economists have no trouble with the extra spending, at some point restraint will be necessary. "The finance minister's job in every government—and she or he may not relish it, but it's the job—is to say no, and Bill Morneau doesn't seem to have said no to much yet," says Bill Robson, president of the C.D. Howe Institute, a nonpartisan think tank in Toronto, of which Morneau is a former chairman. "The sooner the day comes when he says no, the better off we will be in the long run."
The bottom line: Canada's unexpected budget deficit still leaves room for more government spending to boost the economy.
Before it's here, it's on the Bloomberg Terminal.
LEARN MORE