The New Voter Pool in Florida: Puerto Ricans
Candidates target arrivals from the island.
By and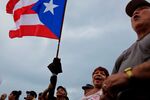 More than a quarter-million Puerto Ricans have moved to the mainland U.S. since 2008, an exodus driven by the island's faltering economy. About a third have settled in Florida, where there are now more than 1 million Puerto Rican-born residents—almost equal to the number of Cubans. The influx into the nation's biggest swing state has created a tantalizing prize for presidential candidates. Although Puerto Ricans traditionally lean Democratic, candidates on both sides are investing heavily in courting these newcomers, who, as U.S. citizens, are eligible to vote in Florida's March 15 primary and in the November general election.
In February, Hillary Clinton opened a campaign office in Orlando, at the heart of central Florida's Interstate 4 corridor, where the Puerto Rican population is concentrated. Donald Trump's campaign sent volunteers there to distribute bumper stickers and lawn signs. Marco Rubio, who successfully pushed for a regiment of Puerto Rican veterans known as the Borinqueneers to be awarded the Congressional Gold Medal, also plans to open an office in the city. "The epitome of swing votes are Puerto Rican voters," says Christina Hernandez, a Democratic consultant who's worked for Clinton and President Obama. "These are the most swing voters in the most swing areas of the most swing state of the entire country."

The tug of war over the Puerto Rican vote has been quietly going on for years. In 2012 the Libre Initiative, a political advocacy group backed by the billionaire Koch brothers, opened an Orlando office offering English-language classes and discussions about how free markets and an evangelical faith reflect Puerto Rican values. Libre's Florida staff has grown to five from one in 2012, and it's opening a second office, in Tampa. In March it will make its first foray onto the island, hosting a booth at an exposition targeting Florida-bound residents.
A growing number of Puerto Ricans in Florida are registering as independents, says Mark Lopez, director of Hispanic research at the Pew Research Center. Unaffiliated Hispanic voters in the I-4 corridor have grown 16 percent since 2012, compared with a 9 percent increase in overall Hispanic registrations, according to state figures. "I've spent a lot of time in that community the last two years," says Florida Lieutenant Governor Carlos Lopez-Cantera, a Republican. "They want to make sure that they have a job and that their children can have a job. They want to make sure their kids get a great education."
The party is also tapping into the disillusionment of Puerto Ricans with their own island government, which is $72 billion in debt and defaulted on some of its bonds in January. Five of the past six governors of Puerto Rico have been Democrats. "It's an easy story," says Bertica Cabrera Morris, a Republican consultant in Orlando. "You left Puerto Rico, your island paradise, to come here, and now you're going to support the party that screwed you?"
Democrats aren't letting Puerto Ricans go easily. In 2011, Obama became the first sitting president since John F. Kennedy to pay an official visit to the island, earning him a life-size bronze statue in San Juan. Clinton, who won the island's Democratic primary in 2008, visited in September; she's secured the endorsement of Puerto Rican singer Ricky Martin. In February she publicly chided Wall Street for its unwillingness to let the island restructure its debt. "Holding the future of Puerto Rico hostage to maximize profits for a group of hedge funds isn't who we are as a nation," she said in a statement.
In Washington, congressional Democrats are pushing to give the territory the right to file for bankruptcy protection. Republicans argue that the island should reduce spending and honor its debts to bondholders. With Congress deadlocked, Puerto Rico's future could be decided by the next president. That's not lost on Josany Cordero, a mother of three who's working at her aunt's restaurant in Kissimmee, south of Orlando, while she decides whether to move permanently from her home in Bayamón, near San Juan. She says she'd register as an independent and vote for Clinton: "I know this person will be good for the United States and help Puerto Rico."
The bottom line: About 1 million Puerto Ricans live in Florida, including many recent arrivals who are being courted by presidential candidates.
Before it's here, it's on the Bloomberg Terminal.
LEARN MORE