Photographer: Adrian Moser/Bloomberg
Sifting Through Swiss Gold Vaults for Clues of Venezuela Default
By
Venezuela gold transfer is good sign Friday payment to be made

Still, investors say payment could be the last before default
For anyone still doubting whether Venezuela will make a $1.5 billion bond payment on Friday, recent activity in a gold vault 5,000 miles away may provide an important clue.
Venezuela shipped 35.8 metric tons, or $1.28 billion, of the precious metal to Switzerland in January, according to data from Swiss customs authorities. That, combined with a $472 million withdrawal from the country's cash reserves on Friday, is boosting bets Venezuela will make good on its commitment this week. After that, it's anyone's guess.
"Gold is convertible, it's just not liquid," said Siobhan Morden, the head of Latin American fixed-income strategy at Nomura Holdings Inc. "I assume it's being shifted to convert into liquidity."

Trade Minister Jesus Faria said this week that the government will honor all of its obligations. "Every debt payment this year is guaranteed, including this Friday's and those in October and November. We have the resources," Faria said on the sidelines of a mining investment event in Caracas. "There is not the slightest chance that we would delay payment."
The asking price of the bond due Friday climbed to 98.97 cents on the dollar from 96.98 at the end of last week. The fact that it trades more than a cent below par so close to maturity shows there are still some traders who doubt the payment will be made.
Aberdeen's Bet
Edwin Gutierrez at Aberdeen Asset Management isn't one of them. He bought the bond last month when it was at 86 cents on the dollar and stands to make a 16 percent profit upon maturity. He declined to specify the size of his bet.
Venezuela is "absolutely" going to redeem the bond, said Gutierrez, who helps oversee $13 billion in assets as head of emerging-market sovereign debt at Aberdeen in London. The dip in reserves shows "they're taking the money from the central bank and setting it aside for the upcoming payment."
The $472 million withdrawal is the largest since October, when state-owned Petroleos de Venezuela SA had two big bond payments due.
Payments later in the year are the ones that worry investors. Venezuela has $2.6 billion in interest due before the end of 2016, plus an additional $5.5 billion in debt and interest coming due for the state-owned oil producer known as PDVSA, data compiled by Bloomberg show.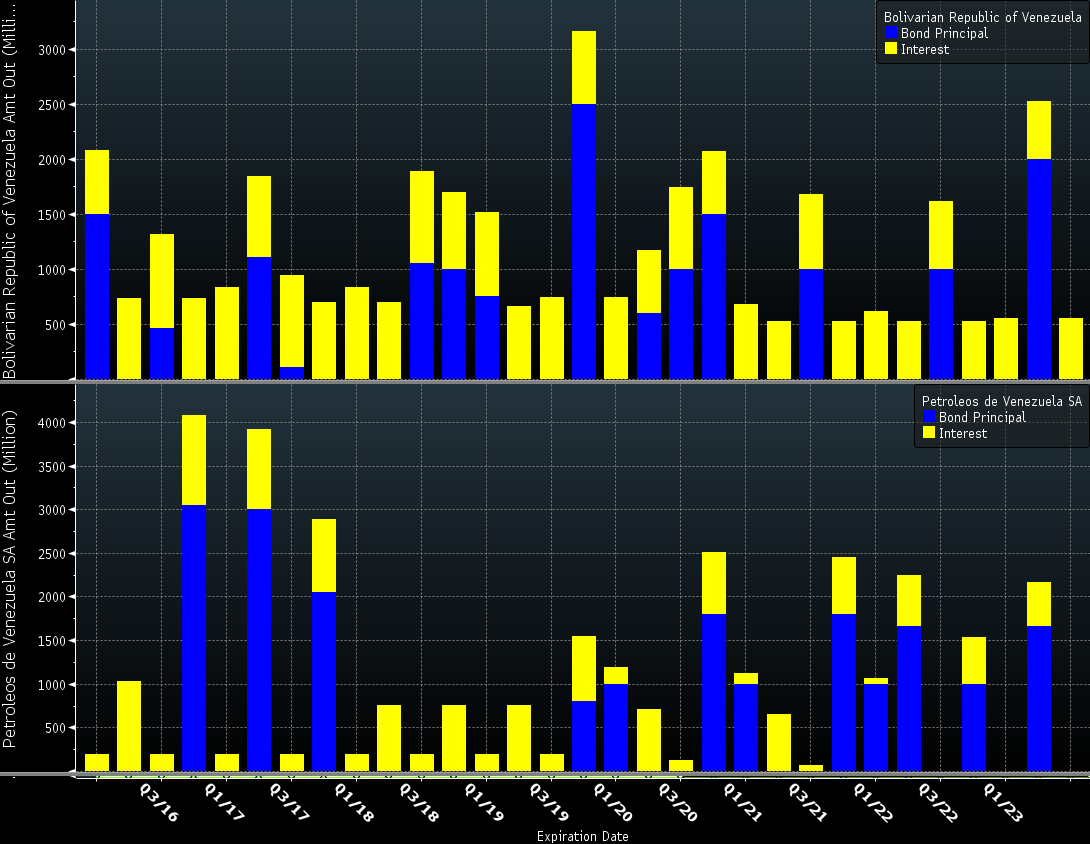 The probability of the country defaulting in the next 12 months stands at 68 percent, according to credit-default swaps, after the price collapsed for oil, the source of 95 percent of Venezuela's foreign-currency earnings. That's down from 83 percent two weeks ago after oil rebounded somewhat and the government took steps to ease its cash crunch.
"They're going to pay on Friday, but then they have six months of borrowing from Peter to pay Paul," said Ray Zucaro, the chief investment officer of RVX Asset Management in Aventura, Florida. "They're really scrambling, but the true problems of economic imbalances haven't been addressed. I think this is the year the music stops."