Iran Votes in Poll Key for Investors as Rouhani Seeks Boost
By and
Reformers, moderates have formed alliance to boost Rouhani

`Lame-duck' president risk if uncooperative parliament emerges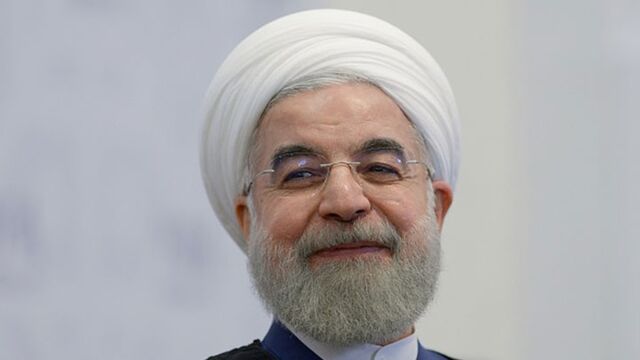 Iranians voted on Friday in the first elections since a nuclear deal ended the nation's isolation, with President Hassan Rouhani seeking to bolster support in parliament where rivals have hampered his efforts to revive the economy.
The architect of a diplomatic U-turn that led to the atomic accord and the removal of global sanctions, Rouhani wants to translate his foreign-policy coup into benefits for Iranians ahead of next year's presidential race, when he might seek a second term. For foreign investors eyeing a relatively untapped nation of 77 million consumers, a legislature more in tune with the president's agenda could speed market-opening laws.
Polling stations opened at 8 a.m. in constituencies nationwide, with some 55 million people eligible to elect the 290-seat parliament. Almost 5,000 candidates are standing, stretching across the spectrum of Iranian politics from reformers who advocate greater openness, through so-called moderates, to hard-line conservatives who see themselves as guardians of the 1979 revolution. There's also a vote for the Islamic Republic's top clerical assembly, which probably will pick the next supreme leader.
Mohammad Rahim, a 30-year-old engineer voting in Tehran, said Rouhani had "managed to deal with $25 oil and also reduce and handle all the debts" left by his predecessor. Rahim said he hoped too that "the social and cultural climate will change and loosen." Polling was extended by two hours until 8 p.m., Tasnim news agency reported, citing the Interior Ministry.
'Lame-Duck' Risk
"The country needs your vote," Rouhani said in a text message sent to millions of Iranians in the days before voting, urging people "to bring about a hopeful future for Iran." Tehran's streets have been daubed in election posters, while portraits of leading candidates overlook main squares. Streams of alerts, photos and political cartoons, some ridiculing rival campaigns, have been exchanged on mobile-messaging apps.
The stakes are high, said Ali Vaez, senior Iran analyst at the International Crisis Group. Should "an uncooperative parliament emerge, Rouhani risks lame-duck status, jeopardizing his odds of re-election in 2017," he said.
Middle-Class Hope

The president's priority for the remaining 17 months of his tenure will be rebuilding the private sector and the energy industry, which will require domestic legislation, said Ellie Geranmayeh, Middle East and North Africa policy fellow at the European Council on Foreign Relations in London. "This is going to put him head-to-head with a lot of the hardliners and traditional conservatives in the parliament" opposed to foreign investment.
Given that many reformist candidates were disqualified by a conservative vetting council, a significant increase in their number in parliament or the assembly will be "practically impossible," she said. Still, a pre-poll alliance with moderates means together they could wield greater influence, Geranmayeh said. "This is the tactic being used."
The scrapping of sanctions has triggered a wave of interest in a $400 billion economy that's home to some of the world's biggest fossil-fuel reserves. Rouhani has spoken in favor of a free market and Iran's oil ministry is drafting new contracts to lure foreign investors. It expects deals worth as much as $15 billion in the next financial year.
'Enthusiasm'
It's essential to get a parliament that supports foreign investment as there's "a lot of enthusiasm" from companies abroad, Vice-President Masoumeh Ebtekar said in an interview as she cast her ballot at a mosque in northern Tehran.
Mohsen, a 24-year-old cleric, was among those voting in Tehran unconvinced by Rouhani's embrace of the international community. "There are some actors and elements inside the country who think that working with westerners will solve our problems," he said, wearing a white turban and declining to give his surname. "Dialogue with the world needs to exist but the U.K., U.S., France and Germany don't want dialogue, they want our dependency."
While the parliament vote will help determine Iran's immediate future, the Assembly of Experts elected on Friday may set the nation's longer-term direction. It will sit for eight years, during which it might have to pick a successor to Supreme Leader Ali Khamenei, who's 76.
Rouhani needs to ensure high participation among the urban middle-class, which is more supportive of his policies but often doesn't vote in the numbers seen in religious, rural constituencies, said Vaez of the International Crisis Group.
Even reformists excluded from standing "are encouraging the electorate to turn out at the polls, lest they waste the opportunity to elect centrists and side-line hardliners," he said.