Venture Capital
Palantir Staff Shouldn't Believe the Unicorn Flyers
Postings on lampposts around the Silicon Valley company's headquarters warned employees that their stock is worthless. Not quite.
by and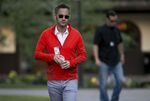 Employees of data-analysis company Palantir Technologies Inc. may have seen flyers posted on lampposts around their Silicon Valley offices this week featuring a disemboweled unicorn with rainbow blood streaming from its midsection. The posting, dated Feb. 23, warned: "Palantir workers: your common shares are worth $0.00."
Palantir staff can relax a bit. The terms of recent fundraising rounds don't contain many of the provisions that can crush the value of common shares held by employees. Fundraising talks last year valued Palantir at $20 billion, people with knowledge of the matter said in June.
While Palantir shares are trading lower on secondary markets than they were last year, the same can be said for many stocks, private and public, thanks to a global economic slowdown. Palantir common stock fetches $8.50 to $10 a share on secondary markets before fees, according to a person familiar with the matter, who asked not to be named discussing private share sales. That's a long way from zero. Palantir declined to comment.
Several flyers have already been removed, according to Quartz. Someone posting on an online community forum under the pseudonym Palantir_Watcher claimed responsibility for creating the handouts. The person didn't respond to a request for comment. However, the guerilla campaign tapped into an undercurrent of uncertainty and fear about what private companies in Silicon Valley are worth after a wave of writedowns and cost-cutting at startups.
Venture capitalists and other institutional investors typically hold preferred shares. They are worth more on secondary markets than common stock, which is what is given to employees, often representing a significant portion of their compensation. However, Palantir hasn't given newer investors the sort of preferential treatment awarded to shareholders of companies such as DocuSign Inc., Honest Co., and Stripe Inc., according to an analysis by the technology website the Information.
The proportion of funding rounds that gave senior liquidation preferences to new investors was on the rise last year among companies with valuations of at least $1 billion, according to a study by law firm Fenwick & West. That allows those new investors to cash out before common shareholders, as well as earlier investors with preferred shares. During the fourth quarter of 2015, 42 percent of deals had such provisions, compared with 15 percent in the previous two quarters. Investors were also given the right to block an initial public offering that didn't meet their valuation threshold in 33 percent of deals in the fourth quarter, compared with 20 percent in the second quarter, the study said. Palantir had neither provision.
For now, Palantir people can rest easy in the Shire, a.k.a. downtown Palo Alto, Calif. The company, which was named after the "seeing stones" from the Lord of the Rings, is not at risk of an evil wizard with preferred shares coming to vaporize workers' share value.
Before it's here, it's on the Bloomberg Terminal.
LEARN MORE