Ontario Looks to Trudeau and Export Surge to Cut Deficit
Ari Altstedter
`Debt is being managed through a prudent plan' Sousa says

Cap and trade carbon-pricing program to bring in C$1.9 billion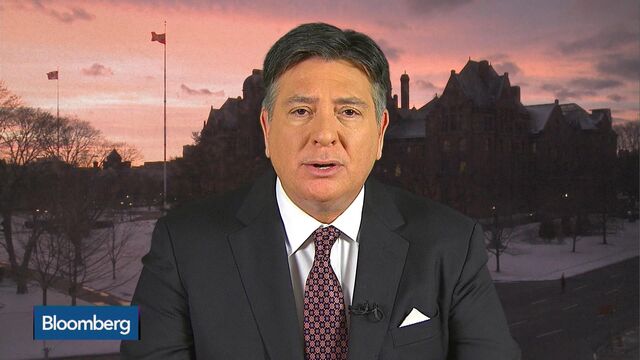 Ontario's Liberal government is counting on some stimulus help from its newly elected federal cousin and stronger growth fueled by a pick-up in exports to help balance its books after a booming housing market allowed it to slash the deficit this year.
The province estimates its deficit for the fiscal year ending March 31 will be C$5.7 billion ($4.2 billion), down from a C$7.5 billion forecast in its November fiscal update, according to budget documents released in Toronto Thursday. The deficit is forecast to shrink to C$4.3 billion next year and balance as projected in 2017-18.
"As we continue to invest in our economy, Ontario continues to move forward" toward a balanced budget, Finance Minister Charles Sousa told reporters in Toronto. "Debt is being managed through a prudent plan that takes advantage of low interest rates locked long term."
Though most of this year's revenue growth came from the real estate sector, Premier Kathleen Wynne is looking for a weaker Canadian dollar to stoke export growth and money from the Liberal federal government to pave the way for the first balanced budget since before the 2008 financial crisis. Coffers will also get a lift from a carbon pricing plan, which the government says will be devoted solely to green projects.
"The era of deficits is virtually over in Ontario," said Sebatien Lavoie, assistant chief economist at Laurentian Bank in Montreal told reporters after the release of the budget.
Carbon Pricing
Ontario recorded about C$1 billion more revenue for the 2015-16 fiscal year than it estimated in November, mostly because of taxes gleaned from the province's hot housing market as economic growth picked up to a projected 2.5 percent from a 1.9 percent forecast in November.
The Liberal government's sale of a stake in provincial electrical utility Hydro One Ltd. also provided a one-time C$1.1 billion boost in 2015-16, while lower than expected interest rate payments on debt saved about C$210 million, also helping shrink this year's budget gap, the documents show.
Residential construction, including in Toronto, home to one of world's biggest condominium booms, soared by 5.5 percent this fiscal year, from 0.4 percent in 2014 as housing starts increased to about 70,200 from 59,100, and resales grew by 9.6 percent versus 3.7 percent.
Sin Taxes
Next year, home construction is projected to slow to 1.9 percent and home resales to shrink outright by 2.9 percent. Provincial export growth meanwhile is forecast to speed up to 2.8 percent from just 0.7 percent this fiscal year, buoyed by the Canadian dollar, which has depreciated 25 percent the last three years to about C$1.3625 per U.S. dollar. Overall, gross domestic product is projected to slow slightly to 2.2 percent.
Higher taxes on tobacco and alcohol will help boost revenue next year along with an expected C$700 million in funding from newly elected Prime Minister Justin Trudeau's federal government for infrastructure, home care, and jobs and training programs. That federal help is assumed to grow to C$1.3 billion by 2017-18, budget documents show.
Revenue will also get a lift from a carbon pricing system starting next year, which is expected to generate C$1.9 billion annually, starting in 2017-18 at cost of about C$13 a month to energy bills for households. The Liberals have promised all the proceeds from the carbon pricing system will go to green initiatives.
Debt Ratio
"We have a structural deficit in Ontario being masked over by various one-time supplements," Vic Fedeli, finance critic for the opposition Progressive Conservatives, told reporters in a media conference before the budget was released.
The government plans to continue to spend heavily on infrastructure while consolidating its student grant system so that tuition for families earning less than C$50,000 is free.
Wynne's government also said the current fiscal year will mark the high water mark for the province's debt load, with the ratio of its net debt to the size of its economy, a measure of how well it can afford what it owes, peaking at 39.6 percent. While that ratio is forecast to persist into the 2016-17, it's projected to decline from there.
Ontario's net debt however, which has been called the biggest debt pile of any sub-sovereign in the world by Moody's Investors Service, is projected to grow to C$308 billion next year from C$296 billion.
*An earlier version of this story corrected spelling of Fedeli under Debt Ratio subhead.
Before it's here, it's on the Bloomberg Terminal.
LEARN MORE