Net Migration to U.K. Above 320,000 as EU Vote Campaign Starts
by
Figures a `disaster,' says UKIP MP who advocates `Brexit'

Immigration is biggest theme for voters in June 23 referendum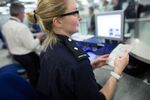 Net annual migration into the U.K. has remained above 320,000, according to the latest official data, figures that were immediately seized on by campaigners to leave the European Union to make the case for a so-called Brexit.
A net 323,000 people entered Britain to live long-term in the 12 months ending September 2015, the Office for National Statistics in London said in a report Wednesday. That was up 31,000 from a year earlier, though down 13,000 from the peak level recorded in the year to June. Neither change was statistically significant, the ONS said.
Prime Minister David Cameron has pledged to reduce net migration to the "tens of thousands" and said a deal he reached with other EU leaders last week will cut immigration. Under the agreement to be put to voters in a referendum on June 23, Britain will be able to curtail welfare payments to new migrants from the rest of the bloc for a limited period.
"Migration figures disaster," U.K. Independence Party lawmaker Douglas Carswell said on Twitter. "If you want us to take back control of our borders, vote 'Leave."'
Before it's here, it's on the Bloomberg Terminal.
LEARN MORE