Bond Investors or Farmers? India Budget Looks to Please Both
by
Bloomberg survey sees Modi deviating from fiscal deficit plan

Farmers want relief from drought, investors want lower deficit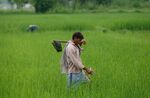 The main question surrounding Indian Prime Minister Narendra Modi's budget on Monday boils down to this: Can he please both farmers and bond investors?
Discontent is rising in rural India after the first back-to-back droughts in about 30 years, adding pressure on Modi to spend more on welfare programs as he faces a series of key state elections. That's in addition to a once-in-a-decade pay rise for government employees that may partially come into effect in the fiscal year starting April 1.
At the same time, bond investors want Modi to tighten the belt and stick with a previously announced goal to lower the federal budget deficit to 3.5 percent of gross domestic product. Central bank Governor Raghuram Rajan has warned that an undisciplined budget could boost bond yields, which would imperil India's credit ratings while also potentially stoking inflation and spooking investors.
"Investors want lower interest rates, higher returns from different asset classes and fiscal consolidation," said Sonal Varma, a Mumbai-based economist with Nomura Holdings Inc. "Voters want a better life, which would require the government to spend more and borrow more. Pleasing both is always tough."
Fiscal Deficit

India's fiscal deficit -- both federal and state governments -- is by far the biggest among Asia's major economies
Modi last year deviated from the deficit-reduction path to spend more on infrastructure
Current deficit-reduction plan calls for 3.5 percent of GDP in the next fiscal year and 3 percent in the year through March 2018; Bloomberg survey sees Modi missing those targets, with economists forecasting 3.6 percent of GDP next year and 3.4 percent in the following 12 months
Borrowing Costs

"Even if budgetary consolidation continues, India's fiscal metrics will remain weaker than rating peers in the near term," analysts at Moody's Investors Service wrote in a Feb. 23 report, citing its debt at about 64 percent of GDP
"Bond markets took the revisions to deficit targets in last year's budget in their stride," said Shilan Shah, an economist at Capital Economics Ltd. "We doubt that markets will be so forgiving this time round"
Indian sovereign bonds have turned into Asia's worst performers in 2016 after the best performance in the previous two years 
Living Standards

India is at once the world's fastest-growing major economy and home to most of the Earth's poorest people
Official data show India created 296,000 jobs from June 2014 to June 2015 in eight major sectors, compared with about 1 million people who enter the labor force each month
Low per-capita incomes limit the tax base, increase pressure for subsidies and underpin a proposed pay hike for about 10 million government employees and military veterans that would boost the wage bill by an estimated 1.1 trillion rupees ($16 billion) in the coming fiscal year
Revenue
India's revenue was 12.5 percent of GDP in 2012, the 12th lowest among more than 100 economies tracked by the World Bank
India may raise the service tax rate to 16 percent from 14.5 percent, which would boost overall tax revenues by about 15 percent, according to estimates from State Bank of India's Soumya Kanti Ghosh
Ghosh predicts the government would opt for a "realistic" asset sales target of 300 billion rupees in the next fiscal year -- 57 percent smaller than the current year


Spending
Modi shifted the proportion of expenditure toward infrastructure and away from subsidies in the last two budgets
Higher spending on bigger public sector wages, pensions and bank recapitalization will make it hard to stick with fiscal consolidation plans, according to Radhika Rao, an economist at DBS Bank Ltd. in Singapore
"Government spending on infrastructure is likely to remain a critical engine of economic growth," according to economists at ICRA Ltd.
Rural Distress

Deputy Finance Minister Jayant Sinha: Working to prepare budget that "will truly eradicate poverty in India"
The government will retain spending on the rural jobs program, expand crop insurance and boost irrigation outlays, according to economists at Morgan Stanley
Almost half of India's 1.3 billion population is employed in agriculture, while total investment in the sector is 2.5 percent of GDP
Manufacturing Boost
Over the past year, India has been roiled by riots across states as youth demand government jobs
Modi's government last week claimed to win investment pledgesof 15.2 trillion rupees ($222 billion) -- more than triple what India has attracted through foreign direct investment since Modi came to office
Modi may open more sectors to foreign investment and give tax breaks for labor-intensive sectors such as leather and jewelry, Morgan Stanley says
Before it's here, it's on the Bloomberg Terminal.
LEARN MORE