Henkel New Chief Gets Tough Message From Adidas-Bound Rorsted
By
Revenue seen growing by 4% to 18.8 billion euros this year

That would miss 20 billion-euros target without making deals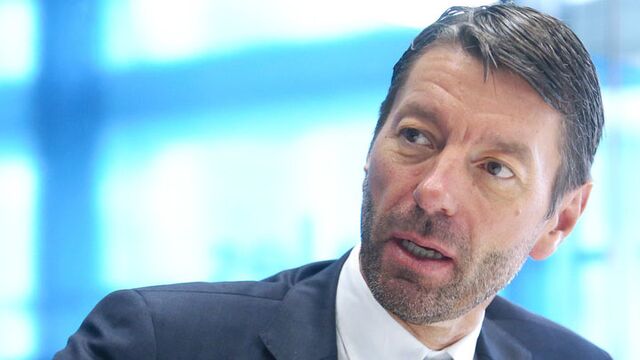 Departing Henkel AG Chief Executive Kasper Rorsted had a tough message for his successor: the targets you're inheriting will be difficult to reach.
Sales at the maker of Loctite glue and Schwarzkopf shampoo will probably fall more than 1 billion euros ($1.1 billion) short of the 20 billion-euro target set for this year, unless acquisitions can bridge the gap. As Rorsted switches to his new role leading Adidas AG, Henkel veteran Hans van Bylenis preparing for his step up to CEO from overseeing the shampoo and deodorant business on May 1.
"On the current outlook, it's going to be a stretch to get to the 20 billion," Rorsted said in an interview with Bloomberg TV on Thursday. The Dusseldorf, Germany-based company won't make acquisitions just to meet the revenue goal, and will instead prioritize its 10 percent earnings-per-share growth target, he said.
Rorsted missed out on plugging the revenue gap when Procter & Gamble Co. opted in July to sell a raft of beauty brands including Wella and CoverGirl to New York-based Coty Inc. instead of Henkel. Disappointment over the failed deal was compounded by a slowdown in China that has curbed demand for industrial adhesives, which are used in packaging.
Henkel shares declined 1.6 percent to 93.77 euros as of 10:38 a.m. in Frankfurt, valuing the company at 38 billion euros. The stock has fallen 9.1 percent this year.

Van Bylen remained in the background while Rorsted fielded questions from analysts and reporters at the company's headquarters, as the future head of Adidas sought to concentrate investors' focus on results rather than the looming CEO change.
While the outgoing CEO enjoyed a positive reputation during his eight-year stint at the top of the company by more than tripling the share price, he leaves Van Bylen with targets he himself says will be difficult to meet, as well as a strategy that hinges on emerging-market growth.
Henkel reported a rise in fourth-quarter profit and said revenue will gain between 2 percent and 4 percent this year as the company boosts sales of laundry and beauty-care products in regions including Eastern Europe and Latin America.
Adjusted earnings before interest and taxes advanced 11 percent to 670 million euros in the three months through December, the company said in a statement. Analysts had predicted 680.5 million euros, on average. Revenue climbed 2.9 percent to 4.4 billion euros.
Expanding Profitability
"If we can buy companies we will do that with a debt-free balance sheet, but we shouldn't try to buy something" to reach a target, Rorsted said. "It's really expanding profitability to drive shareholder value that's important to us."
Rorsted said the key will be expanding in emerging markets while finding the right balance between growth and profitability. The company raised its divided by 12 percent to 1.47 euros a preferred share.
Laundry and home-care organic sales increased by 4.9 percent in 2015, with emerging markets in Eastern Europe, Latin America and Asia the main drivers. Beauty-care sales gained 2.1 percent, while adhesive technologies advanced 2.4 percent.