Germany Tightens Asylum Rules as Merkel Stems Refugee Flow
by
Schaeuble says border-closure advocates peddling `illusion'

Merkel under pressure ahead of state elections as EU bickers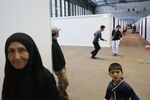 Germany's parliament backed tighter asylum rules sought by Chancellor Angela Merkel, giving her a domestic tool to reduce a record influx of refugees as she struggles to set up barriers at Europe's outer borders.
Lower-house lawmakers passed the restrictions by a vote of 429 to 147 on Thursday after Merkel brokered a deal that bridged differences within her three-party coalition over how welcoming Europe's biggest economyshould be after refugee arrivals surged last year. The measures aim to speed up the processing of asylum requests, hasten the expulsion of those who don't qualify and restrict family reunions for some refugees.
"Even from a moral standpoint, there is no duty for our country to offer humanitarian help to such an extent that it overburdens itself and its citizens," Deputy Interior Minister Ole Schroeder said in a floor speech laying out the government's position.
Faced with the biggest threat to her decade-long chancellorship, Merkel is enlisting Turkey to help restrict the refugee flow from countries such as war-torn Syria as most of Germany's European Union partners balk at a resettlement plan. The chancellor says she'll take stock of her open-door policy after an emergency EU summit on refugees on March 7, six days before her party faces voters in three state elections.
As countries close their borders along the so-called Balkans route heading from Turkey to northern Europe, Peter Altmaier, Merkel's chief of staff, said they shouldn't dump the refugee crisis on Greece.
"We want a solution that all European countries can live with," Altmaier told a business audience in Berlin. "If everyone closes their border, the refugees will be handed on from the top to the bottom and the last country is left holding the bag -- in this case, Greece."
Refugee Jobs
After more than 1 million refugees arrived in Germany last year, about half of them from Syria, finding jobs for them is one of Merkel's challenges. Addressing Germany's national Chamber of Commerce of Industry, Altmaier appealed to companies to employ qualified refugees and invest in countries near Syria such as Jordan.
While 7 percent of companies took on refugees in the last two years, 34 percent plan to employ refugees this year or next, the Ifo institute said in a statement Thursday, citing a survey of more than 1,000 companies it commissioned. A lack of German language skills was the most often-cited hurdle to employment.
As the refugee crisis erodes Merkel's approval ratings and her party's poll numbers, the influx is slowing at least for now. Daily arrivals dropped to 1,300, Michael Grosse-Broemer, parliamentary whip for Merkel's party bloc, said last week. That compares with more than 10,000 on some days last fall.
Finance Minister Wolfgang Schaeuble renewed his backing for the stance taken by Merkel, who says closing Germany's borders would send the wrong signal to Europe and hurt the economy.
"It's an illusion to want to solve the problem at Germany's borders," Schaeuble said in an interview with the Suedwest Presse newspaper posted on the ministry's website. "We shouldn't promise people things that don't work."
Before it's here, it's on the Bloomberg Terminal.
LEARN MORE