FIFA Favorites Promise More Money and Travel in Final Pitches
by
Infantino, Salman lead five-man field to replace Sepp Blatter

Longshot Prince Ali Bin al-Hussein said "no more handouts"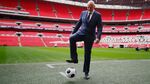 The front-runners for FIFA president are promising bigger grants and more travel in their last-minute appeals to voters, a strategy reminiscent of disgraced president Joseph "Sepp" Blatter's political playbook.
Sheikh Salman al Khalifa of Bahrain, who heads soccer in Asia, told voting delegates from the Americas that he'll create task forces and councils, layers of governance which typically require all-expenses-paid travel to Zurich. European soccer leader Gianni Infantino has said, if elected, he would more than double development grants to each FIFA member to $5 million over the next four years.
Cash handouts and generous committee assignments were staples of Blatter campaigns. The liberal distribution of funds helped keep him at the top of soccer's global governing body for more than 20 years. They also ultimately led to his ouster amid sweeping corruption probes by U.S. and Swiss authorities.
All of the candidates say they are committed to restoring FIFA's international reputation and credibility. Before Friday's vote for a new president, the member nations will also vote on proposals designed to increase transparency and improve FIFA's overall operations.
One of the reforms would cut the number of standing committees from 26 to nine. Canadian soccer head Victor Montagliani described the groups as "a masquerade of participation" and "a little bit of a waste of time."
As part of his campaign promise, Salman said advisory committees would benefit from the experience of national soccer leaders. "I am sure we will need most of you around," Salman told a meeting of officials from North and Central America and the Caribbean.
He attacked Infantino's pledge to make bigger grants, saying it would bankrupt the organization. Infantino said the cash would come from savings and from more responsible spending on the World Cup and its administration. He pointed out the 32-team World Cup costs three to four times as much as the 24-team European Championships. UEFA, which governs European soccer, has the same number of employees as FIFA and runs on about one-third the budget, Infantino said, pointing out that the organization spends $1 million on its annual congress, compared to FIFA's $30 million annual meeting.
The three other candidates also made their cases. Prince Ali Bin al-Hussein, the Jordanian Prince who lost to Blatter in a May election two days after the first wave of arrests, said he was committed to development but there would be "no more handouts for political support."
Jerome Champagne, a former member of Blatter's regime, said his campaign was not built on "smoke and mirrors."
The strangest intervention came from South African Tokyo Sexwale. A former political prisoner-turned-billionaire mining magnate, Sexwale referenced Concacaf's former president Jeffrey Webb. Webb has pleaded guilty to charges of racketeering, money laundering and wire fraud. Sexwale referred to Webb and others ousted amid the corruption probe as "friends that we have lost."
Before it's here, it's on the Bloomberg Terminal.
LEARN MORE