Fed Officials Confident on U.S. Outlook While Wary on Inflation
by and
San Francisco Fed's Williams: don't obsess on March vs June

St. Louis Fed's Bullard says inflation expectations a concern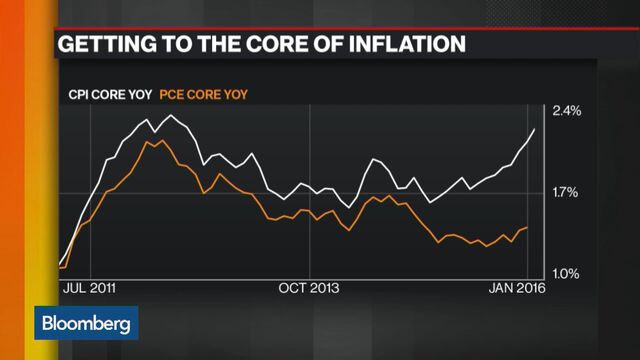 Two Federal Reserve officials said policy makers must watch the outlook for inflation as they consider when to raise interest rates again even as the U.S. economy improves.
San Francisco Fed President John Williams said Thursday that with the economy strengthening, "it just makes sense" to continue gradual policy tightening. At the same time, he acknowledged that overseas headwinds had grown since the central bank increased rates in December for the first time in almost a decade.
"There are big movements going around in the global economy and inflation that we have to adjust to," he told reporters after delivering a speech in New York.
The policy-setting Federal Open Market Committee meets March 15-16. Investors see only a 10 percent chance it will hike next month, rising to 24 percent in June. Williams cautioned against obsessing over the debate around "should we raise in March or should we raise in June."
Officials must decide if domestic strength that drove the U.S. unemployment rate to 4.9 percent in January will be sufficient to push inflation up to its 2 percent goal, overcoming headwinds from slowing growth abroad that has roiled markets and oil prices that are down about 10 percent since the start of the year.
On Track
St. Louis Fed chief James Bullard said that the pickup in coreprices in January was evidence that the FOMC's forecast for faster inflation was on track. He's referring to the 2.2 percent year-over-year gain in the consumer price index measure that excludes food and energy costs.
"That's good news in the sense that it fits with the committee's narrative on this," Bullard said during an appearance on CNBC television. "What's got me worried is these inflation expectations have fallen," referring to market-based measures derived from trading in Treasury Inflation-Protected Securities, or TIPS.
Bullard, a voting member on the FOMC this year, said he was open-minded about what the Fed should do in March: "I'll reserve judgment about the meeting itself because we're not there yet and we've got more data to come."
In a speech Wednesday evening, Bullard said it would be "unwise'' to raise rates while inflation expectations were declining, in a sign that he was in no hurry to tighten policy.
Dennis Lockhart, head of the Atlanta Fed, also spoke Thursday and cautioned that rising U.S. interest rates could undermine bank profits while their exposure to commercial real-estate also remains a risk.
Before it's here, it's on the Bloomberg Terminal.
LEARN MORE