Most Emerging Stocks Fall After U.S. Data as Currencies Advance
by , , and
Chilean peso, Colombian peso strengthen most among peers

Chinese shares tumble as money-market rates increase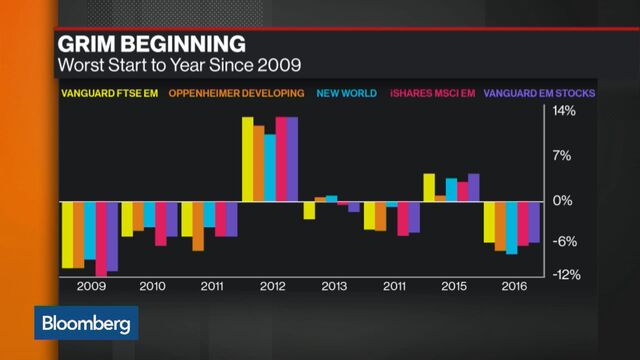 Most emerging-market stocks fell as better-than-estimated U.S. economic data bolstered the case for further interest-rate increases by the Federal Reserve. Latin American exchange rates led gains among currencies.
Chinese shares traded in Hong Kong dropped the most in two weeks and Shanghai-listed equities tumbled 6.4 percent as the overnight money rate climbed by the most since the Lunar New Year holiday. Markets in Turkey, Hungary and the Czech Republic increased at least 1.2 percent each, limiting losses on the MSCI Emerging Market Index. Russia's ruble rose with oil prices, while Brazil's real strengthened on speculation that support is growing to impeach President Dilma Rousseff.
The MSCI developing-nation equity benchmark is headed for its ninth monthly retreat since May amid speculation that central bankers are reaching the limits of their ability to support growth. Valuations near the lowest in almost a decade and stability in oil prices are attracting some investors back.
"Strong U.S. data is on the margin bad for emerging-market stocks because it raises the likelihood of the Fed raising interest rates," said Michael Wang, a strategist at hedge fund Amiya Capital in London. "There is some concern about a return to risk-off in EM driven also by falling commodity prices and the weaker yuan."
Stock Slump
Orders for U.S. capital goods rebounded in January by the most since June 2014, representing a pause in manufacturing's downturn, a report from the U.S. Commerce Department showed. Orders for all durable goods -- items meant to last at least three years -- rose 4.9 percent, the most since March.
The MSCI Emerging Markets Index dropped 0.2 percent to close at 735.35. Seven of 10 groups retreated, led by industrial and consumer discretionary stocks. The benchmark gauge trades at 10.8 times projected 12-month earnings of its members, a 28 percent discount to advanced-nation shares.
The Shanghai Composite Index posted the biggest drop since Jan. 26, while the Hang Seng China Enterprises Index of mainland stocks listed in Hong Kong completed a third day of declines with a 2.4 percent slide. China's overnight repurchase rate, a benchmark of interbank funding availability, jumped the most since Feb. 6.
Bulls Resurfacing
The benchmark gauge in Moscow gained 0.4 percent as Brent crude traded 88 cents higher at $35.29 per barrel. Crude rose to a four-week high after gasoline inventories dropped the first time in 15 weeks amid talks among producing countries.
The Borsa Istanbul 100 Index increased 1.5 percent, rebounding from Wednesday's 1.9 percent drop. The WIG 20 Index in Warsaw ended a two-day drop, and shares traded Prague advanced 1.2 percent. The Budapest Stock Index gained the most in a month as Magyar Telekom Nyrt., the former telecommunication monopoly, said it planned to raise its dividend.
Emerging-market assets are so cheap that they may be "the trade of a decade," according to Research Affiliates LLC, a sub-adviser to Pacific Investment Management Co., one of the world's biggest money managers. It's joining a growing number of investors, including BlackRock Inc., Franklin Templeton and Goldman Sachs Asset Management, who are turning bullish on emerging markets after three years of declines.
Currencies
A gauge of 20 developing-nation currencies added 0.3 percent, ending a two-day decline.
The Chilean and Colombian pesos each gained more than 0.5 percent.
South Africa's rand pared losses of as much as 1.1 percent against the dollar as Finance Minister Pravin Gordhan said his budget is credible enough to avoid a downgrade of the nation's credit rating.
South Korea's sovereign bonds rose for a second day, with the 10-year yield dropping two basis points to 1.80 percent. The comparable yield in India rose five basis points in India to 7.87 percent.
The premium investors demand to own emerging-market debt over Treasuries declined 1 basis point to 468, according to JPMorgan Chase & Co. indexes.
Before it's here, it's on the Bloomberg Terminal.
LEARN MORE