Distressed Retailers Turning Into Pariahs as Financing Dries Up
by and
More bankruptcies could follow RadioShack's default last year

Consumer shift is making it harder for retailers to recover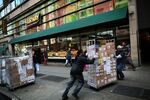 Struggling U.S. retailers are finding it harder to get a lifeline.
Fewer shoppers are going to the mall -- opting instead to spend their money on experiences and online orders -- and there's less access to credit that might help troubled retailers stay solvent. That means distressed apparel sellers and other chains are probably headed for another year of bankruptcies and liquidations in 2016, according to panelists at an event sponsored by the Turnaround Management Association in New York.
"I personally have never seen it being this difficult before," Jan Kniffen, founder of the retail consulting firm J. Rogers Kniffen Worldwide Enterprises, said at the event this week. "The operating environment has never been tougher."
Several companies are on the brink already. Sports Authority Inc. is preparing a bankruptcy filing, Bloomberg News reported earlier this month. The Colorado-based retailer is already technically in default, according to Moody's Investors Service, which downgraded the company this week.
Fairway's Woes
The gourmet grocery chain Fairway Group Holdings Corp., meanwhile, is at risk of breaching its credit covenants when its fiscal quarter in early April, Moody's said. And then there's Hancock Fabrics Inc., a sewing chain with more than 250 stores that sought bankruptcy protection earlier this month.
Financing is getting tougher. Average borrowing costs for junk-rated retailers have surged more than 1.5 percentage points to 8.9 percent in the past year, according to Bank of America Merrill Lynch Index data.
Last year also was a big year for retail bankruptcies, with RadioShack, American Apparel and Quiksilver all seeking protection from creditors.
Increased regulation means that lenders are more constrained, said Lynn Whitmore, a managing director at the retail division of Wells Fargo & Co.'s capital finance business. That limits how easily they can bail out a company that is too distressed or heavily in debt.
Waiting Longer
For retailers that do file for bankruptcy protection, the odds of getting their house in order and re-emerging are getting smaller. Executives are waiting too long to seek protection from creditors, said Durc Savini, the former head of restructuring at Peter J. Solomon & Co. That means they file "with no money and no time," forcing companies to put themselves up for sale during the process instead of trying to reorganize, he said.
Not every company that files has gone away: American Apparel and Quiksilver have both re-emerged from bankruptcy. But often there are no takers when bankrupt companies seek buyers.
More sophisticated lending assessments mean it's harder for bidders to unearth hidden value, said Paul Halpern, chief investment officer at Versa Capital Management, a private equity firm that buys and invests in troubled companies.
In the past, publicly held companies would find buyers to help them go private, giving retailers a chance to revamp their operations out of the spotlight. But there's little interest in that now, Halpern said.
At current valuations, those transactions are "off the table," he said.
Before it's here, it's on the Bloomberg Terminal.
LEARN MORE