Deutsche Telekom Raises Dividend as U.S. Gains Boost Profit
by
Ebitda of 5.1 billion euros beats 5 billion-euro estimate

T-Mobile US adds more than 1 million users for sixth quarter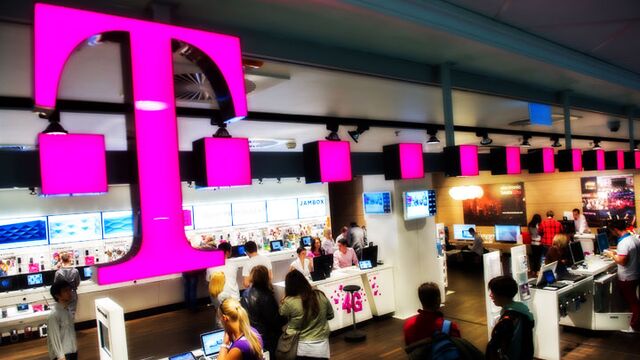 Deutsche Telekom AG raised its dividend for the first time since 2007 as customer gains at its U.S. mobile-phone unit helped Chief Executive Officer Tim Hoettges boost profit.
The payout will rise 10 percent to 55 cents a share, the Bonn-based company said in a statement Thursday. Fourth-quarter earnings climbed 16 percent to 5.1 billion euros ($5.6 billion) stripping out interest, taxes, depreciation, amortization and other items. Analysts had projected 5 billion euros.
Hoettges is relying on the success of the company's U.S. business, T-Mobile US Inc., for earnings growth as competition in Germany and elsewhere in Europe weighs on customer gains and phone bills. The CEO affirmed the company's commitment to the U.S. business, which reported rising profit last week and predicted as many as 3.4 million new subscribers for this year, helped by aggressive promotions.
Deutsche Telekom has no intention to sell its stake in T-Mobile US for now as the business is performing well, Hoettges told reporters in Bonn. The unit's chief, John Legere, who regularly communicates with customers, rivals and the market via Twitter, has created "completely new categories as an attacker," Hoettges said.
Shares of Deutsche Telekom rose 1.4 percent to 15.23 euros at 1:11 p.m. in Frankfurt. They've lost about 6 percent in the past year.
This year, adjusted Ebitda will increase to about 21.2 billion euros from 19.9 billion euros as sales are set to rise, Deutsche Telekom forecast. That matches the average analyst estimate compiled by Bloomberg.
U.S. Growth
Fourth-quarter sales rose 5 percent to 17.9 billion euros, exceeding the average estimate of 17.8 billion euros. T-Mobile US, the third-largest U.S. wireless carrier, added more than 1 million new monthly users for a sixth straight quarter as it lured customers with promotions like free video streaming. The favorable dollar-euro exchange rate also had a "significant" impact on Deutsche Telekom's earnings, the company said.
Deutsche Telekom has held discussions to sell T-Mobile US to various potential buyers in recent years. Dish Network Corp. had spoken with Deutsche Telekom about a deal for years and such slow-moving talks were still continuing last June, people with knowledge of the matter said at the time. In 2011, Deutsche Telekom failed to sell T-Mobile US to AT&T for $39 billion as regulators opposed the deal, saying it would harm consumer interests.
At home, Deutsche Telekom competes with Vodafone Group Plc and Telefonica Deutschland Holding AG as it seeks to win over customers for MagentaOne -- a package of phone, Internet and television services it offers in Germany and is expanding to other European countries. Rivals including United Internet AG and Drillisch AG are putting pressure on wireless bills with their lower-cost offerings.
Bundesliga Interest
Deutsche Telekom "is looking at" the next auction of TV rights for Germany's Bundesliga soccer league, Hoettges said. The company said it plans to register for the auction once related documents are released. Currently held by Sky Plc, the rights for the seasons starting in 2017 are expected to be auctioned in the coming months.
Deutsche Telekom is also trying to slow the loss of traditional fixed-line connections and invest in new broadband services to win customers and return to sales growth. It added 362,000 mobile phone contracts in Germany in the fourth quarter and won 51,000 new customers for its Entertain TV offering.
In Europe, adjusted full-year Ebitda shrank as sales fell in markets including the Netherlands. The company this month halted a plan to sell its Dutch unit as bids fell short of the asking price, leaving the carrier facing stiffer rivalry as competitors Vodafone and Liberty Global Plc are combining assets in the country.
Deutsche Telekom projected declining revenue for Europe this year and said it seeks to stabilize sales in 2017.
Europe "needs consolidation," Hoettges told Bloomberg TV in an interview. "Before we consider any outer-market consolidation, we do the consolidation of our infrastructure in the markets which we have. We have 12 markets here in Europe and we build a pan-European network before we consider something of cross-country mergers."
Before it's here, it's on the Bloomberg Terminal.
LEARN MORE