China Unveils Its Deliverables for G-20 -- And No Plaza Pact
Bloomberg News
Finance minister calls any Plaza-type agreement 'just fantasy'

PBOC deputy says policy makers balancing reform and stability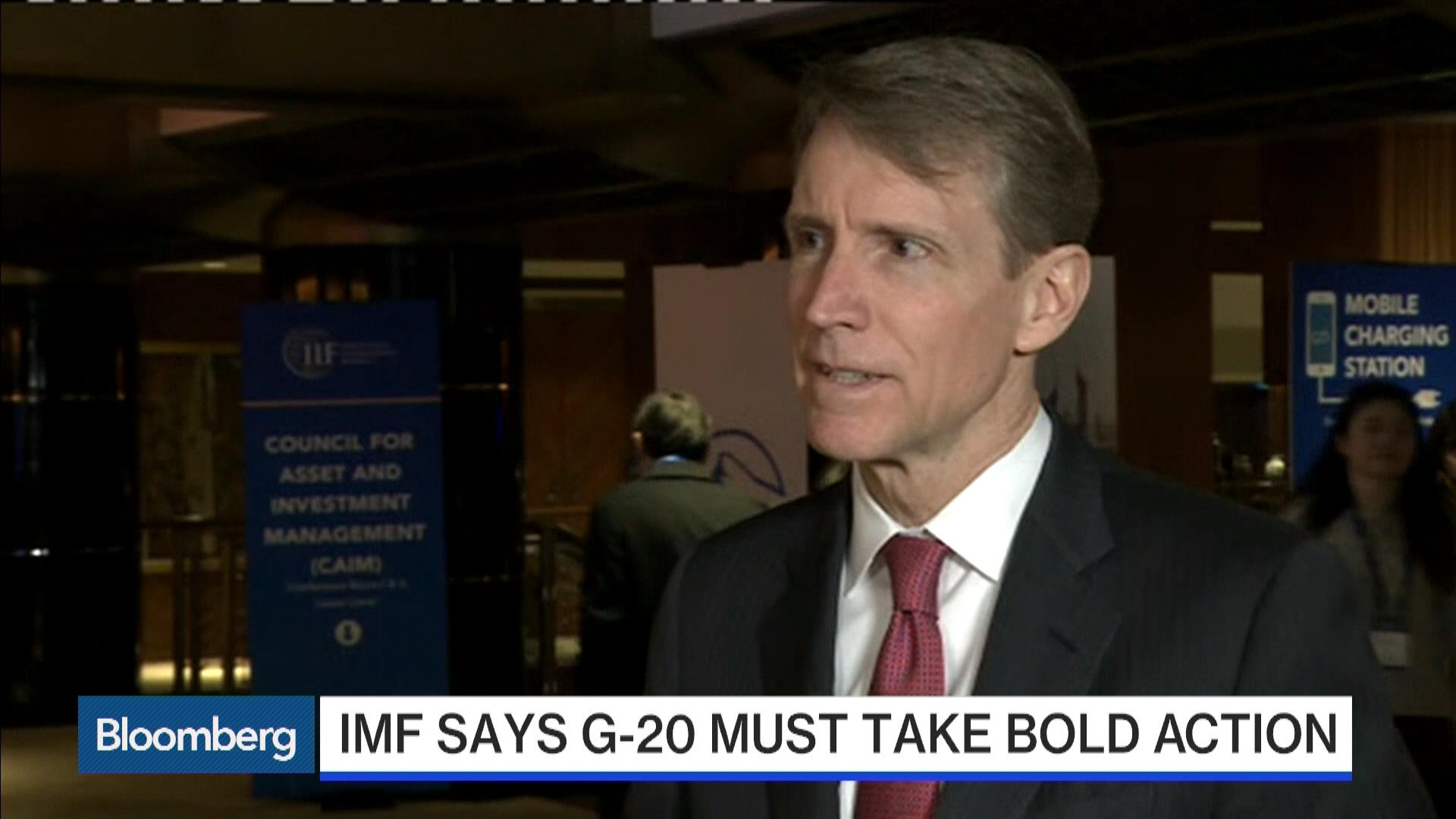 China began signaling what its officials plan to present to counterparts at the two-day Group of 20 meeting in Shanghai, laying out a platform for more government spending and renewed pledges of currency stability.
Notably rejected in comments from Finance Minister Lou Jiwei published Thursday was a proposal that emanated from some private-sector analysts for a grand, 1985 Plaza Accord-style deal among G-20 members to guide exchange rates.
Vice Finance Minister Zhu Guangyao said fiscal stimulus should be deployed to boost global growth, while Yi Gang, the deputy central bank governor, said China will maintain a relatively stable currency as it embraces market forces.
Clouding what should have been China's chance to showcase its agenda, the nation's stocks plunged anew on the eve of the Feb. 26-27 meetings of central bank chiefs and finance ministers, as surging money-market rates signaled tighter liquidity.
"The stock slump has been triggered by the disappointment of investors in the government's ability to deliver economic reforms," said Hong Kong-based Lu Ting, chief economist at Huatai Securities Co. "Any recovery in the stock market will rely on concrete outcomes of reforms, not empty talk."
How policy makers should respond to weakening global demand is set to dominate the agenda at the Shanghai meeting. Chinese officials including Yi's boss, Zhou Xiaochuan, have stepped up communication leading into the summit, trying to relieve global concerns over China's economic and currency outlook.
Bank of Japan Governor Haruhiko Kuroda Thursday called for a dialog on China's economy at the G-20 meeting.
"The nation is going through various structural changes," Kuroda told lawmakers in Tokyo. Given China's size, it "can have a large impact on Asia and the global economy. So, I would like to have honest exchange of opinions."
'Modest Depreciation'
"We think China still has ammunition to support growth," Wang Tao, chief China economist at UBS Group AG in Hong Kong, wrote in a note. "Despite depreciation pressures, we expect China will likely pursue a relatively stable RMB exchange rate against the basket, with opportunistic and modest depreciation against the U.S. dollar," she wrote, referring to the abbreviated term for renminbi, another name for the yuan.
The yuan exchange rate will mainly be determined by a basket of currencies and not just the U.S. dollar, Yi said Thursday. Demand will remain "fairly strong" for the foreseeable future, and policy makers will keep a "delicate balance" between reform and stability, he said.
'Just Fantasy'
Lou said a new Plaza Accord to intervene in currency markets "is just fantasy," according to Feb. 19 comments published Thursday in China Daily. A proposal to devalue the yuan is "media hype" and isn't on the meeting agenda, Lou said, according to the official English-language paper. The G-20 shouldn't discuss a specific country's currency policy at its gathering, the paper reported, citing a Chinese financial official who wasn't identified.
Governments and private sector analysts continue to downgrade their outlook for the world economy amid China's slowdown, tumbling oil prices and tepid demand. With negative interest rates in economies such as Japan and the euro area and historically low rates elsewhere, calls are increasing for more fiscal firepower and structural reforms that can boost the growth outlook.
"Countries with room to make fiscal expansion should take action," Zhu said at the Institute of International Finance conference in Shanghai. "We cannot just rely on monetary policy. Fiscal policy must play a role."
China is confident it can keep its currency, the yuan, stable at a "reasonable balanced level," Zhu also said. China has room to increase spending, but how much will be subject to what is approved at the National People's Congress next month, he said.

China is able to increase its budget deficit to 4 percent of gross domestic product as the government seeks to cut corporate taxes, central bank officials wrote in an article on the Economic Daily's website.
Huatai's Lu said a higher fiscal deficit would give more room for economic reforms, drive demand and help stabilize market expectations.
Thursday's jolt lower showed underscored the need for a dose of confidence. The Shanghai Composite Index sank 6.4 percent, with about 70 stocks falling for each that rose. The overnight money rate, a gauge of liquidity in the financial system, climbed the most since Feb. 6.
"The February G-20 meeting was supposed to confirm Beijing's position as a critical member of the global economy's governing council," Bloomberg Intelligence analysts Tom Orlik and Yuki Masujima wrote in a note. Tumbling stocks, regulatory concerns and a weakening currency are dealing "a blow to China's capacity to shape the global agenda."