China Could Beat Hollywood by 2017
The country's box-office sales are growing an average of 34 percent a year.
By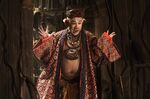 To celebrate the Lunar New Year, Fei Li did what tens of millions of other Chinese did: She went to the movies. The 29-year-old finance professional and six family members, from her 91-year-old grandmother to her 6-year-old niece, went to see The Mermaid at the Capital Cinema in Beijing's Xicheng district. "We all love it," says Li, who paid about 35 yuan ($5) to see the movie a second time.
Buoyed by holiday audiences, The Mermaid, a quirky comedy from director Stephen Chow about a mermaid who falls in love with a real estate tycoon she's sent to assassinate, is the highest-grossing film of all time in China. It's rung up more than $440 million in ticket sales since opening on Feb. 8, according to box-office researcher EntGroup, overtaking local hit Monster Hunt and Hollywood's Furious 7.
"What we are finding is that the technical expertise is getting far better than it was, and the Chinese audience is responding," says Marc Ganis, co-founder of Jiaflix Enterprises, which helps market and distribute films in China. "The Hollywood blockbusters were just so far superior, many Chinese would go and watch those and live with subtitles and voice-overs," he says. "Now they don't have to."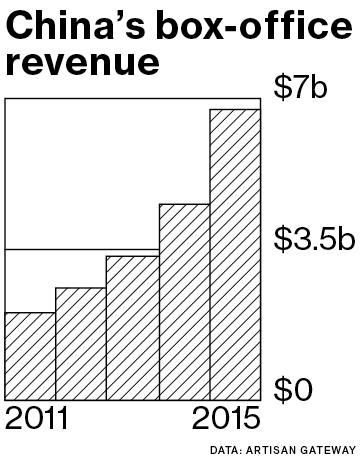 The latest box-office success signals a shift in the movie industry's balance of power. Facing a quickly growing and maturing Chinese market—average growth in recent years has been 34 percent—Hollywood is looking to deepen its relationship with China in mutually beneficial ways.
Chinese moviegoers "now have big-budget, action-packed domestic films that can compete with Hollywood in terms of both special effects and far more interesting stories for the local populace," says Jonathan Papish, an analyst with researcher BoxOffice.com.
In February, China broke the global box-office record for a single week—$557 million from Feb. 8-14, EntGroup says, all for local productions, because imports aren't shown during the holiday period. The country surpassed a $534.7 million record set in the U.S. in late December, after the release of Star Wars: The Force Awakens. At this rate, China could overtake the U.S. in annual ticket sales as early as 2017, industry watchers say.
China has been a focus for Hollywood studios in recent years as the U.S. film market has stagnated. In 2015, China's box office totaled $6.8 billion, up 49 percent from the previous year, says consulting firm Artisan Gateway. The North American (U.S. and Canada) box office had its biggest year ever in 2015 at $11.1 billion, thanks to several franchise releases, including Star Wars. But it dropped almost 2 percent from 2010 through 2014, to $10.4 billion, according to the Motion Picture Association of America. Since 2012, Hollywood's share of the Chinese market has fallen from 49 percent to 32 percent, says EntGroup.
China limits U.S. movie imports to 34 annually. The industry is closely managed by two government-controlled entities, the State Administration of Press, Publication, Radio, Film & Television (SAPPRFT) and China Film Group, which select the films that will enter the market, set opening dates, and determine the number of screens.
Hollywood is seeking to strengthen its foothold in China to take advantage of the fast pace of growth. Studios including Universal Pictures and Warner Bros. have struck partnerships with Chinese film and media companies to gain bigger audiences at more venues. (The country has about 31,630 movie screens; it added 8,035 last year.) The deals "give U.S. producers someone with relationships at the regulatory level in China to call on" to increase access to the market, says Rance Pow, founder and president of Artisan Gateway. And that China now boasts more accomplished filmmakers only adds to the interest.
Since 2014, Paramount Pictures, working with SAPPRFT, has invited several Chinese directors to training programs in Los Angeles. The project benefits all parties, says Rob Moore, Paramount's vice chairman: "The real upside for us is being able to spend time and get to know a number of these top Chinese filmmakers and get their perspective on the Chinese market, which has been paying dividends for us in terms of the success of Mission: Impossible and The Terminator."
Chinese companies also have boosted their investments in Hollywood. China-based studio Perfect World Pictures said in mid-February it would spend more than $250 million on 50 movies produced over the next five years by Comcast's Universal Pictures, whose Furious 7 has brought in $390.9 million in China ticket sales since opening there last April. In January, Wang Jianlin, chairman of conglomerate Dalian Wanda Group, became the first Chinese person to control a Hollywood film company after buying Legendary Entertainment, the co-producer of Jurassic World, for $3.5 billion. "The Legendary deal is a puzzle piece" for Wanda, Pow says. "It's a component of a bigger and grander strategy to become globally integrated in the film business."
Hollywood and China are growing more comfortable with each other. In the future, says Jonah Greenberg, head of the China operation for Creative Artists Agency, Chinese directors will make big-budget movies in English for a global audience. In February, Universal Pictures plans to release director Zhang Yimou's The Great Wall with Matt Damon in the largest production ever shot entirely in China.
Many in Hollywood say China's thriving industry could ease the curbs on imported films. A U.S.-China memorandum of understanding setting the film quota expires next year, and new terms will be needed.
"We believe it is in the long-term best interests of the U.S. studios if there is a thriving Chinese marketplace that will both lead to the Chinese movie business continuing to expand, as well as hopefully more opportunity for U.S. movies and U.S. studios," says Paramount's Moore.
 
—With Stephen Tan and Grace Huang
The bottom line: Box-office sales are growing 34 percent a year in China, which could overtake North America as the biggest movie market in 2017.
Before it's here, it's on the Bloomberg Terminal.
LEARN MORE