Uganda Sees Low Turnout in Local Elections After Museveni's Win
by
Commission, monitors report significantly quieter polls

President extended rule in vote whose credibility questioned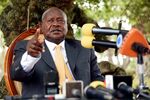 Turnout was low in Uganda's local government elections, held less than a week after a disputed presidential vote in which Yoweri Museveni extended his three-decade rule.
Polls are open Wednesday to elect chairpersons and councilors for the East African nation's more than 110 districts. Both Uganda's electoral commission and an independent monitoring group said stations saw substantially fewer voters than on Feb. 18.
The lower turnout could be because of "the importance people attach to each election," Paul Bukenya, the commission's deputy spokesman, said by phone from the capital, Kampala, without elaborating. The body hopes more people will cast ballots before stations close at 4 p.m., he said.
Ugandan authorities say Museveni won re-election with 61 percent of ballots to 35 percent garnered by the main opposition challenger, Kizza Besigye. The declaration was rejected by Besigye, whose party has been organizing its own vote-tally, and came amid international concern over the polls' credibility. The opposition leader has been under house arrest since Friday and seized by police at least twice when trying to leave his residence.
Museveni, 71, has ruled Africa's biggest coffee exporter since 1986. The country is set to start pumping oil in the next two years and plays a key regional role, contributing troops to an African Union force battling al-Qaeda-linked militants in Somalia.
Voters may be demoralized and "have lost faith in the electoral process," said Livingstone Sewanyana, chairman of the Citizens Election Observers Network-Uganda, a Kampala-based group comprising at least 15 non-governmental organizations. "It will take a generation for people to have faith in elections," he said by phone.
Before it's here, it's on the Bloomberg Terminal.
LEARN MORE