U.S., China Said to Agree on Draft UN Resolution on North Korea
by
Sanctions would follow recent nuclear test, rocket launch

Resolution could be voted on this week, diplomat says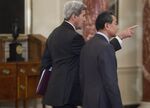 The U.S. and China reached an agreement over a new United Nations Security Council resolution that would punish North Korea for its recent rocket launch and nuclear test, according to diplomats from two Security Council member countries.
Chinese Foreign Minister Wang Yi and U.S. Secretary of State John Kerry met in Washington Tuesday and said they were making "significant" progress on new sanctions, without giving details. Wang also met with National Security Advisor Susan Rice, a meeting that President Barack Obama joined to "underscore his interest in building a durable, constructive, and productive U.S.-China relationship," according to a White House statement.
China's participation is essential as it is North Korea's biggest trading partner, providing most of the isolated country's energy and food. Any draft resolution would have to be voted on in the Security Council, where the U.S., Russia, China, France and the U.K. wield veto power. That vote could be taken this week, according to one of the diplomats, who asked not to be identified because he isn't authorized to discuss the issue publicly.
"Economic sanctions, if imposed and supported by China, could be far more effective than before," Goldman Sachs Group Inc. analysts Goohoon Kwon and Irene Choi wrote an e-mailed report. "Relevant parties would likely understand that the sanctions might not be strong enough to stop the nuclear ambitions of North Korea, but may opt to compromise to keep stability in the region."
Reuters cited unnamed diplomats as saying the U.S. is seeking Chinese support to curb North Korea's access to international ports, and to tighten restrictions on North Korean bank routes to the international financial system.
North Korea's nuclear test in January and more recent long-range rocket launch prompted South Korea's government to say it would be willing to discuss installing a U.S. missile defense system on its soil, a move long opposed by China. South Korea's Dong-A Ilbo newspaper reported this week that new sanctions could include a ban on exporting jet fuel that the North Korean air force uses.
Before it's here, it's on the Bloomberg Terminal.
LEARN MORE