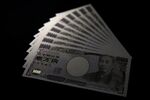 Demand for 10,000-yen bills is steadily rising in Japan, even as the nation's population falls and the use of credit cards and other forms of electronic payment increases.
While more cash might sound like a good thing, some economists are concerned that it shows Japanese households are squirreling away money at home instead of investing it or putting it into bank accounts -- where it can make its way back into the financial system and be put to productive use. 
That's a big problem for Prime Minister Shinzo Abe and his central bank chief, Haruhiko Kuroda, as they try to spur consumption and reflate the stuttering economy.
The mountain of cash in Japan amounts to almost 100 trillion yen ($890 billion), equivalent to about a fifth of the size of the economy. And last year the number of 10,000-yen notes, the biggest bill, increased by 6.2 percent, the largest jump since 2002.

Safe maker Eiko Co. says shipments of its products have doubled since autumn last year. The Tokyo-based company's sales chief, Tsutomu Ishii, said one reason for the surge is the government's "My Number" initiative.
In January, Japan started issuing identity numbers similar to U.S. Social Security numbers as it seeks to cross-check financial data spanning government services, health care, tax and social welfare. Although it doesn't apply to bank accounts yet, concern that the government could find out how much people have in the bank may be prompting savers to withdraw their money and put it under the mattress.
The Bank of Japan's negative interest rate policy, announced last month, could make the trend even worse. While authorities have said the adjustment to the BOJ's monetary operations shouldn't mean regular savers get charged for making deposits in banks, interest rates on some accounts have dropped to a paltry 0.001 percent.
"The negative-rate policy is likely to intensify the preference of Japanese households to keep cash at home," said Hideo Kumano, an economist at Dai-ichi Life Research Institute. "Overall, the trend of more cash at home reflects concern about the outlook for economy among households. This isn't a good thing."