This Is Why Kyle Bass Is Wrong on China Collapse, Says CICC
by
CICC questions parallels between Japan in 1990 and China now

Economists' note follows earlier report from CICC bank analyst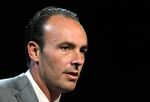 China International Capital Corp. has stepped up its beef with Kyle Bass.
The Chinese investment bank's economists published an 11-page rebuttal of hedge-fund manager Bass's assessment earlier this month where he stated that the nation's banking system may see losses of more than four times those suffered by U.S. lenders during the 2008 credit crisis.
CICC says Bass is getting it wrong in three main areas: by comparing a "vastly different" Chinese economy to that of Japan's in 1990; by using the ratio between loans and economic output as a complete measure of leverage in China; and by using a measure of foreign-exchange reserves that underestimates the true figure.
There are "several factual errors in Mr. Bass's research," Hong Liang, Beijing-based chief economist at CICC, and Eva Yi wrote in a report Tuesday. "Although we do not share Mr. Bass's assessment of a violent debt-deflation cycle accompanied by severe FX depreciation in China in the near future, we acknowledge that China's current macro challenges are daunting."
This critique comes one week after their CICC colleague Mao Junhua wrote his own research taking issue with Bass's assessment of nonperforming loans. The hedge-fund manager, who successfully bet against mortgages during the subprime collapse, said earlier this month that in the event that the Chinese banking system loses 10 percent of its assets because of bad loans, the nation's banks will see about $3.5 trillion in their equity vanish, according to a letter to investors obtained by Bloomberg.
"We chose to write the rebuttal simply because it caused quite a bit of stir among our clients," CICC's Yi wrote in an e-mailed response to questions. "We take it as our responsibility to decipher through the noise and provide a balanced view on China macro-related issues."
When asked to respond via e-mail, Bass pointed to a Feb. 17 Goldman Sachs Group Inc. report, in which the firm flagged the potential for a 9 percent bad-loan ratio in China's banking system, more than the official reported level of 1.7 percent. The ability of industrial companies to cover their interest payments had deteriorated to levels in line with 2003, which is when banks last reported a 9 percent bad-loan ratio, according to the report.

Well known for his bet against the U.S. mortgage market in 2007, some of Bass's calls haven't been as prescient. He revealed wagering on a collapse in Japan's government-bond market in 2010, a short position he later acknowledged that other bond investors had nicknamed "the widow maker."
Others have also disagreed with Bass's views including Larry Hu, an economist at Macquarie Group Ltd. in Hong Kong. He said this month that the hedge-fund manager's estimate for bank losses could be too large as it implied a true bad-loan ratio for China banks at 28 to 30 percent.
Meanwhile, Eclectica Asset Management's Hugh Hendry has taken issue with Bass's forecast for a major devaluation in the yuan against the dollar. Policy makers in China wouldn't risk such a drop because of the impact on consumption, Hendry said at a conference last week.
Before it's here, it's on the Bloomberg Terminal.
LEARN MORE