Target Trades Profit for Sales Growth in Holiday-Season Push
by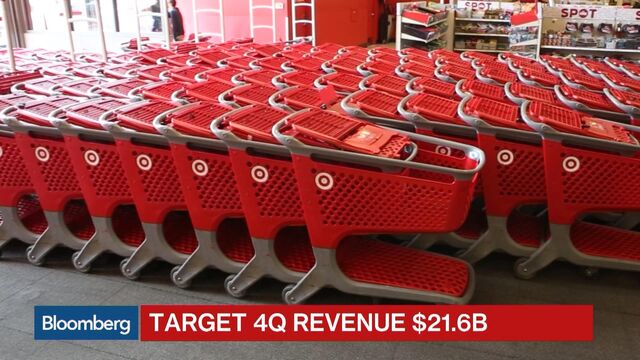 Target Corp. posted holiday sales growth that topped analysts' estimates, boosted by a surge in online orders, though the retailer's heavy reliance on discounts took a toll on profit during the season.
Same-store sales gained 1.9 percent in the fourth quarter, the Minneapolis-based company said in a statement Wednesday. Analysts had predicted 1.5 percent, according to Consensus Metrix. But Target's gross profit margin slipped to 27.9 percent from 28.5 percent a year earlier, a decline the retailer attributed to "investments in promotions."
Target got more aggressive with holiday discounts this past season, aiming to take market share from Wal-Mart Stores Inc. and other rivals. It cut prices on categories like toys and offered free shipping to online customers. Wal-Mart, in contrast, encouraged e-commerce shoppers to pick up deliveries in stores.
"We set out to win and we did," Cathy Smith, Target's chief financial officer, said on a conference call. "The guest responded to our well timed, broad-based offers exceptionally well."

The question for investors is whether the gambit was worth squeezing profit. Excluding some items, earnings per share were $1.52 in the period, which ended Jan. 30. Analysts had estimated $1.54 a share on average, according to data compiled by Bloomberg. Chief Executive Officer Brian Cornell said on Wednesday that the company would work to "accelerate profit growth."
The shares rose 4 percent to $76.94 in New York trading, bringing their year-to-date gain to 6 percent.
Annual Forecast
For the the current year, Target expects earnings of $5.20 to $5.40 a share, excluding some items. That exceeded the $5.17 projected by analysts. It forecast $1.15 to $1.25 this quarter, in line with the average estimate of $1.20.

"While we can debate the strength of the fourth-quarter results given the better sales trends offset by gross margin declines and EPS miss, it is clear that fiscal year 2016 guidance is strong," Sean Naughton, an analyst with Piper Jaffray, said in a note to clients.
Target's rivals reported more sluggish sales in the holiday period. Wal-Mart posted a 0.6 percent same-store increase, while Macy's Inc. had a 4.8 percent decline.
Since taking the CEO post a year and a half ago, Cornell has been shifting the company's focus to areas like home, fashion and baby products -- where he feels Target is the strongest and can stand out from Wal-Mart. The company also invested heavily in marketing over the holidays.
Store Shake-Up
Cornell has retooled the company's grocery offerings as well, putting more emphasis on health foods, organics and products popular with young adults. And he's overhauling the appearance of the stores, changing how clothing and home furnishing are displayed, and opening smaller outlets in urban areas.
While other retailers complained of weak clothing sales, especially with warmer-than-usual weather in some areas, Target said its apparel sales were up 3 percent. The company also saw a "double-digit" increase in toy sales, Smith said.
Sales from Target's website increased 34 percent last quarter, well above the 8 percent gain reported by Wal-Mart. Target was able to beat Wal-Mart's website, and in some cases Amazon, on prices in some key categories over the holidays, according to data from Boomerang Commerce.
Because of the steep discounts online and free shipping, digital sales probably came with a lower margin. Now, Target will have to figure out how to translate that sales growth into profit.
"Digital does have a little more challenging economics," Smith said. "But we also know guests start shopping on digital and often end up in stores, and the economics are better when they end up in the store."
Before it's here, it's on the Bloomberg Terminal.
LEARN MORE