Spanish Billionaires May Foot the Bill as Podemos Bids for Power
by and
Anti-austerity party may cut tax breaks on investment pools

Tax shelters under threat as regular Spaniards struggle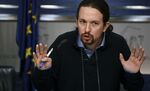 The richest people in Spain may be about to get stuck with the bill for the country's political transition.
As the Socialists get first shot at forming a governing coalition in a parliamentary vote next week, anti-austerity group Podemos is pushing for a progressive alliance that would likely target the tax shields holding 34 billion euros ($38 billion) of assets belonging to wealthy Spaniards.
If Podemos leader Pablo Iglesias persuades the Socialists to accept his offer, the Sicav investment vehicles used by some Spanish billionaires will be in the new government's sights with voters clamoring for change in western Europe's most unequal country. Inditex SA heiress Sandra Ortega, Ferrovial SA's Del Pino family and the father of Barcelona soccer star Gerard Pique all use Sicavs, minimizing the tax liabilities on their portfolios.
Iglesias is urging Socialist leader Pedro Sanchez to disregard the concerns of his party elders and forge an administration focused on helping those who suffered most during the country's five-year slump. To help fund that program, Podemos is eyeing up the assets held in Sicavs.
"If Podemos and the Socialists reach an agreement, there will likely be changes in the Sicavs' conditions since both of them included it in their programs," Antonio Barroso, a political analyst at Teneo Intelligence in London said.
A spokesman for the Del Pino family declined to comment when contacted by Bloomberg News, while representatives of Ortega and Pique didn't respond to inquiries about their holdings.

Podemos wants to revise the Sicav tax regime while the Socialists have called for more restrictions on how the structures can be used.
'Fear and Nervousness'
Sicavs run by banks like UBS Group AG, Credit Suisse Group AG and BNP Paribas SA are popular with wealthy Spanish families because they allow them to control their investments and minimize their taxes. Sicavs pay 1 percent tax on their profits compared with corporate rates of 15 percent for startups and 25 percent for other companies. When investors sell Sicav shares or take dividends they are liable for income tax.
Banco Santander SA, Spain's No. 1 bank, had the largest Sicav business as of September with 4.9 billion euros under management, according to Spanish fund association Inverco data. Spokesmen for UBS, Credit Suisse, BNP Paribas and Santander all declined to comment.
"There is fear and nervousness among Sicav shareholders who are expectant to see what the new government will look like and what measures, if any, it will take," Jacobo Blanquer, partner at Tressis Gestion, an asset manager with 13 Sicavs, said by phone.
Loophole
Sicavs are open to groups with at least 2.4 million euros to invest and have attracted criticism because wealthy individuals have skirted the restrictions that are supposed to make them vehicles for groups of investors.
By law, a Sicav needs to have at least 100 shareholders but, since there isn't a maximum percentage a sole shareholder can hold, many investors recruit associates to make up the numbers who own just a single share. So the supposedly collective vehicle is controlled by a single family or individual.
While similar structures exist across Europe, in Spain Sicavs have become associated with tax avoidance strategies for the rich in the public imagination, and that's why they're in the line of fire.
"I'm going to get rid of Sicavs," Iglesias said in a prime-time interview with Antena 3 television during the campaign for December's election, during which he also played guitar and sang an obscure comic song from the 1980s.
Capital Flight
Tax inspectors' union Gestha has called for individual stakes in Sicavs to be capped at between 3 percent and 5 percent. Spain's Basque region, which has the power to set its own fiscal policy, went a step further in 2009, raising tax rates on Sicavs. As a result, all of the funds domiciled there moved to other parts of Spain.
If the next government does try to clamp down on Sicavs, Spanish funds could move to Luxembourg, which is one of Europe's main hub for financial vehicles, Xavier Puig, a finance professor at Barcelona's Pompeu Fabra University, said. The owners would still pay income taxes in Spain but the Sicav would pay the local tax which is lower than the Spanish one.
"We received many queries from our clients with shares on Sicavs about the future of the vehicles and what alternatives they have," said Marcelino Blanco, Madrid-based head of financial advisory at Swiss private bank Mirabaud SCA, which manages about 275 million euros in 42 Sicavs. "We have opted to be cautions and advised our clients to wait and see what changes are really taken."
Before it's here, it's on the Bloomberg Terminal.
LEARN MORE