South Africa Says Budget Credible Enough to Avoid Downgrade
By and
Finance minister pledges to narrow fiscal deficit next year

Markets disappointed that budget didn't take bolder steps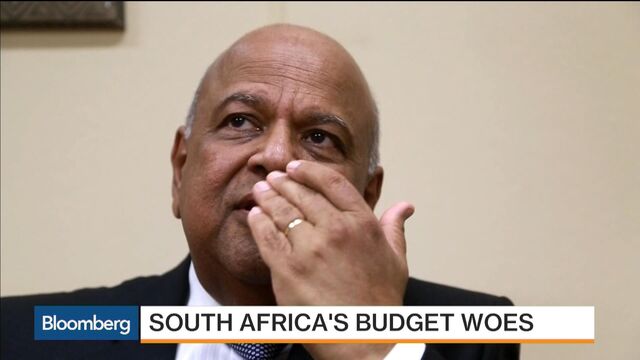 South Africa delivered a credible budget to avoid a credit-rating downgrade to junk and financial markets probably overreacted by expecting more austere measures, Finance Minister Pravin Gordhan said.
"We need to demonstrate it to ourselves as South Africans that we can put a package together, both in terms of our plans and financing those plans, that are credible, that are sustainable and that are viable," Gordhan said in an interview in Cape Town on Wednesday. "I think we've managed to do that."

Gordhan was under pressure to deliver a budget that would preserve the nation's investment-grade credit rating in the face of slowing economic growth and rising debt. He pledged to bring the fiscal deficit down to 2.4 percent of gross domestic product over the next three years by curbing the civil service and raising taxes. That didn't go far enough for some investors who were expecting more significant tax increases and state asset sales to boost revenue.
The minister "over-promised and under-delivered," Jeffrey Schultz, an economist at BNP Paribas Securities, said by e-mail. "More explicit revenue-generating measures were needed in order to bolster policy credibility. We don't think that enough has been done to avoid a ratings downgrade."
Credit Ratings
Standard & Poor's has a negative outlook on its rating of BBB-, the lowest investment grade, while Fitch Ratings has a stable outlook on its equivalent assessment. The two companies are due to publish reviews of their ratings in June and December. Moody's rates the nation's debt two levels above junk, with a negative outlook.
"The key problem of South Africa is long-standing, slow growth experience," Moritz Kraemer, chief ratings officer for S&P, said in an interview on Bloomberg TV on Thursday. "Without the growth, it is very hard to consolidate public financing."
Gordhan forecast the budget shortfall will narrow from an estimated 3.9 percent of GDP this year, based on the view that economic growth will more than double from a projected 0.9 percent in 2016 to 2.4 percent in 2018.
The rand slid the most of all major currencies against the dollar on Wednesday, plunging as much as 3.5 percent versus the U.S. currency, while bond yields jumped. The rand was 1 percent lower at 15.7572 against the dollar as of 12:07 p.m. in Johannesburg on Thursday.
Market reaction to the budget may improve after investors take more time to consider the numbers, Gordhan said.

"Depending on the kind of mindset you approach South Africa's issues with, you can often set unrealistic expectations," he said. "The budget is not something that you can instantly react to, it requires some study to understand what are the different elements in the proposition that we are putting forward. If there's more relaxed observations about the budget, there will be hopefully a better response from the markets."
Gordhan was reappointed to his post in December after President Jacob Zuma was forced to backtrack on a decision to fire Nhlanhla Nene as finance minister and replace him with a little-known lawmaker. Gordhan had been in the job from 2009 until 2014.
"If we do not get above 0.9 percent in the next year or two, we will have to do more of this balancing act, more of cutting expenditure and more of raising revenue," Gordhan said at a post-budget breakfast meeting in Cape Town on Thursday.